Career Center response to current health concerns surrounding COVID-19
Due to the current COVID-19 situation, the Career Center has transitioned to provide services through telephone or video conferencing via Zoom technology for the present time. Our hours are Monday through Friday from 8am to 5 pm, except for holidays.
For students and alumni, we will continue to provide career counseling appointments for internships and jobs, academic major/career exploration including career assessments, graduate school preparation, career and professional development opportunities for students to learn about and apply for internship and job opportunities in addition to connecting students with potential employers. To schedule or cancel an appointment, please see Handshake instructions below for more information. For virtual workshops and other opportunities, please go to the Students/Alumni page for more information.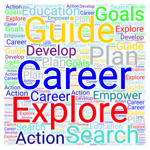 What is Career Counseling?
Career counseling is an area of counseling focused on helping people identify career, educational, and personal goals based on their needs, interests, values, skills, strengths, and life circumstances. Through the career counseling process, guidance is provided to help people make informative and intentional career decisions and establish a course of action for their career and educational pursuits.
Who are the Career Counselors?
Valentina Felix, BA
Contact Information:
(909) 537-3247
vfelix@csusb.edu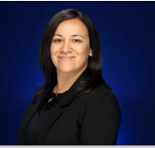 Denise Perez-Flores, MS
Contact Information:
(909) 537-3256 
denise.perezflores@csusb.edu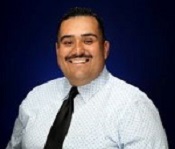 Oscar Fonseca, MS
Contact Information:
(909) 537-8243
oscar.fonseca@csusb.edu
What can a Career Counselor help me with?
Career Counselors are here to assist you in all aspects of your career journey. During your appointment with a Career Counselor, you will have the opportunity to ask questions related to career and educational planning, discuss challenges and barriers to success, and work towards accomplishing your goals.

Appointment topics include:
Major & career exploration
Career & educational planning
Resumes, cover letters, & CV's
Job & internship search
Networking
Graduate school preparation
LinkedIn profile building
Interview skills & practice
Salary negotiation
How do I make an appointment?
Current students and recent alumni (within one year of graduation) please follow the 3-Step-Process below.
Alumni - after one year of graduation (fee required) Get more information.
Step 1
Go to mycoyote.csusb.edu.
Log in to your myCoyote account.
Select the "Employment Opportunities" icon. 
Step 2
Select the "Handshake" icon. This will take you to your Handshake student/alumni profile.
Complete & save your profile.
Step 3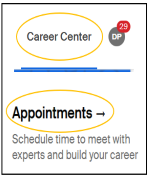 From your Handshake Profile homepage, select the "Career Center" tab located on the top menu bar.
Select "Appointments" from the Career Center dashboard and follow the prompts.