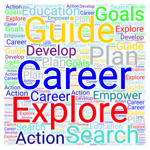 What is Career Counseling?
Career counseling is an area of counseling focused on helping people identify career, educational, and personal goals based on their needs, interests, values, skills, strengths, and life circumstances. Through the career counseling process, guidance is provided to help people make informative and intentional career decisions and establish a course of action for their career and educational pursuits.
Who are the Career Counselors? Vacant
Vacant Career Counselor position at the CSUSB Main Campus location. This Career Counselor serves as the Liaison to the College of Arts & Letters and College of Education.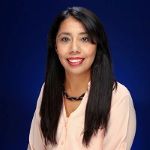 Jennifer Carhart, MS
Jennifer is a Career Counselor at the CSUSB Main Campus location and serves as the Liaison to the College of Natural Sciences.
Contact Information:
(909) 537-3248
jennifer.carhart@csusb.edu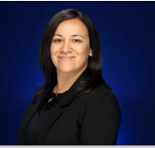 Denise Perez-Flores, MS
Denise is a Career Counselor at the CSUSB Main Campus location and serves as the Liaison to the Jack H. Brown College of Business and Public Administration & College of Social and Behavioral Sciences.
Contact Information:
(909) 537-3256 
denise.perezflores@csusb.edu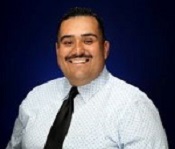 Oscar Fonseca, MS
Oscar is a Career Counselor at the CSUSB Palm Desert Campus (PDC) location. 
Contact Information:
(909) 537-8236
oscar.fonseca@csusb.edu
What can a Career Counselor help me with?
Career Counselors are here to assist you in all aspects of your career journey. During your appointment with a Career Counselor, you will have the opportunity to ask questions related to career and educational planning, discuss challenges and barriers to success, and work towards accomplishing your goals.
Appointment topics include:
Major & career exploration
Career & educational planning
Resumes, cover letters, & CV's
Job & internship search
Networking
Graduate & school preparation
LinkedIn profile building
Interview skills & practice
Salary negotiation
How do I make an appointment?
Current students and recent alumni (within one year of graduation) please follow the 3-Step-Process below.
Alumni - after one year of graduation (fee required) click here for more information.
Step 1
Go to mycoyote.csusb.edu.
Log in to your myCoyote account.
Select the "Employment Opportunities" icon. 
Step 2
Select the "Handshake" icon. This will take you to your Handshake student/alumni profile.
Complete & save your profile.
Step 3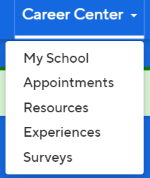 From your Handshake Profile homepage, click on the "Career Center" tab located on the top menu bar.
Select "Appointments" from the drop-down menu and follow the prompts.
Appointment Cancellation/No Show Policy
To cancel your appointment, please contact the Career Counselor and/or the Career Center 24 hours prior to your scheduled appointment time.
If more than two (2) consecutive appointments are canceled or considered a "no show" (more than 10 minutes past the scheduled start time), your ability to make appointments may be temporarily suspended.
To remove a temporary suspension from making appointments, you will need to attend a 15-minute drop-in session and then contact the Career Counselor to have your access reinstated.