Welcome to Handshake for Staff and Faculty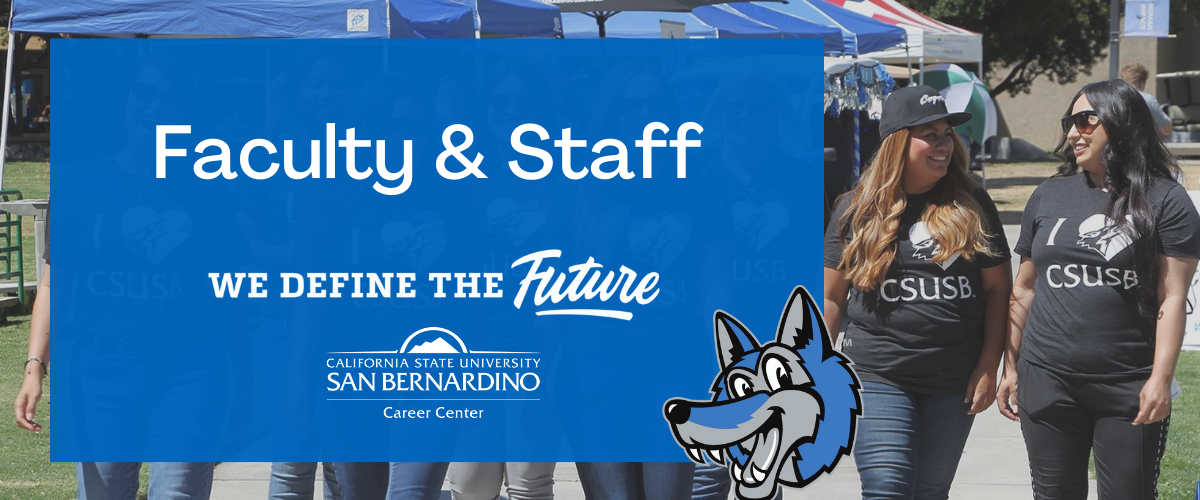 Handshake is a platform that connects talented Coyotes with internships, jobs and career opportunities.  Use Handshake to assist students in finding workshops, events and other career development programs hosted by the CSUSB Career Center.

Whether it's making a career counseling appointment to talk about future career plans or beginning the internship/job search process, Handshake is the place to start. Handshake has features that allow students and alumni to personalize their profile, making it even easier to stay connected with the Career Services Center and employers. 
Handshake Login for Staff and Faculty
With Handshake, staff and faculty can help students:
 Staff and Faculty can use their CSUSB Handshake account to:
How to create a Handshake account
Handshake is used to promote employment, event, and program opportunities to students and alumni to view and apply directly. If you do not have an account already, please follow these instructions.
Post Jobs
Handshake is our online job board system used by CSUSB students and alumni to find a full-time, part-time, internship, and co-op opportunities. To post positions, log-in or register for a Handshake account and connect with CSUSB. Please view the Handshake support article on "How to Post a Job".
Collect & Search Resumes
Companies are eligible to search our students/alumni and their resumes in Handshake, as long as the student has made their profile public. This feature will allow you to search students/alumni utilizing various filters, including major, GPA, and class year, to help you narrow down your candidate pool. 
Register for Events
Various career fairs, information sessions, summits, and panels are available to participate in to meet students and alumni from all colleges of study and disciplines for full-time, part-time, internship, and co-op positions.
If you are in need of access to Handshake to assist students, please contact the Career Center at careercenter@csusb.edu or call (909) 537-5250.
Handshake Training for Staff and Faculty
The Career Center and the Student Employment Office are proud to provide Handshake user training for all campus departments. This training is recommended to those that are planning to hire students for on-campus employment. 

The training covers the following topics:
How to setup your free Handshake department account
How to post on-campus jobs on Handshake
How to view applicants
How to download a resume packet 
How to expire a job posting
How to send notifications to applicants from Handshake
Official hiring paperwork that is required by the Student Employment office
To Sign-up for Handshake Student Employment Training Course by SkillSoft:
Login to your my.csusb.edu with your Coyote-ID and password.
Select My Employment
Select SkillSoft
Search for Handshake Student Employment Training
Click on the Sessions tab
Select one of the available sessions.
Videos and Tips 
Each department is set up as their own separate company profile within Handshake.
Please be sure to check with your department at your university to ensure there is an account made on Handshake. 
Each campus department/office will manage their own staff and postings
Approval for on-campus job postings must be approved with Student Employment.