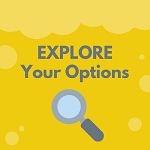 Major & Career Exploration
Choosing a major can be a hard decision to make especially when there are so many options to choose from and you may not know exactly which career path each major leads to. Choosing a career path can also be a hard decision to make and there is much more to the decision-making process than you may realize. When choosing a career path, it is important to not focus solely on your chosen major as there are other factors to take into consideration such as values, interests, personality type, lifestyle, goals, career outlook, skills, experience, and motivation, just to name a few.
If you are undecided on a major, questioning your current major choice, or are unsure of what career path to take, the Career Center is here to help you make these very important decisions. Through various online exploration tools, assessments, and one-to-one guidance provided by the Career Center, you will no doubt be on your way to feeling confident about your decisions. Please review our Major & Career Exploration PowerPoint and handout for your reference:
Listed below are the "Top 10 Action Steps" you can take to help you decide. The choice is yours and the time is now. Get started today!
Top 10 Action Steps
Explore major and career options by choosing a specific major or occupation using any of the online tools below in the "Online Resources for Major & Career Exploration" table.
Browse CSUSB majors in the university catalog and view course descriptions for the upper-division core and concentration courses to help you get a better idea of what you will be studying. 
Take courses in major(s) of interest to gain an in-depth understanding of the subject matter.
Join an on-campus student club or organization.
Conduct an informational interview with a professional in a career field of interest. You can start with staff and faculty on campus by searching the CSUSB Campus Directory.
Connect with CSUSB Alumni through the CSUSB Coyote Network or LinkedIn.
Gain experience through volunteer, internship, and job opportunities.  
Attend a Career Center workshop, fair/expo/speaker panel, or employer information/tabling session.
Take an inventory or assessment such as the Strong Interest Inventory or Myers-Briggs Personality Type Indicator using Humanmetrics.com, 16personalities.com, or CA CareerZone. You can also Meet with a Career Advisor to take the formal versions and receive a one-to-one interpretation of the results.   
Meet with a: 

Peer Advisor, Academic Advisor/Counselor, or Faculty Advisor in the department of your intended or declared major.
General Academic Advisor (for undeclared students) or Career Advisor to discuss your options, decide on a major and/or career and make a plan.
Online Resources for Major & Career Exploration
Logo
Description
What Can I Do With This Major? is an online resource that encourages students to explore careers related to different majors. Each major lists possible fields, companies that employ within those fields, and strategies for those who are interested. 
O*NET is the nation's primary source of occupational information containing hundreds of standardized and occupation-specific descriptors on almost 1,000 occupations covering the entire U.S. economy. The database, which is available to the public at no cost, is continually updated from input by a broad range of workers in each occupation.
Bureau of Labor Statistics: Occupational Outlook Handbook can help you find career information on duties, education and training, pay, and outlook for hundreds of occupations.
The Hispanic Educational Technology Resources (HETS) Virtual Plaza offers CSUSB students free access to over 300 online practice exams, personality/career assessments, scholarships, and internship information. 
MyPlan.com helps students and professionals plan more fulfilling lives by making well-informed decisions about their education and careers. Whether you're deciding on what college to go to, choosing a major, planning ahead for your first career, or thinking about making a career change.

CollegeBoard BigFuture provides information on major choices by allowing you to choose an interest area to get some ideas about possible college majors. 

CA CareerZone is powered by Headed2, a secure web-based platform designed to help you explore, plan, and prepare for a career you'll love. By working through the system, you can access:

Self-assessment modules including interest, work-importance and skills profile tools.
Financial literacy tools including "Budget your Life" assessment.
Over 900 occupations, as well as information on US colleges and certifications.
Personalized pathway recommendations based on student exploration.