Here to Career Internship Opportunities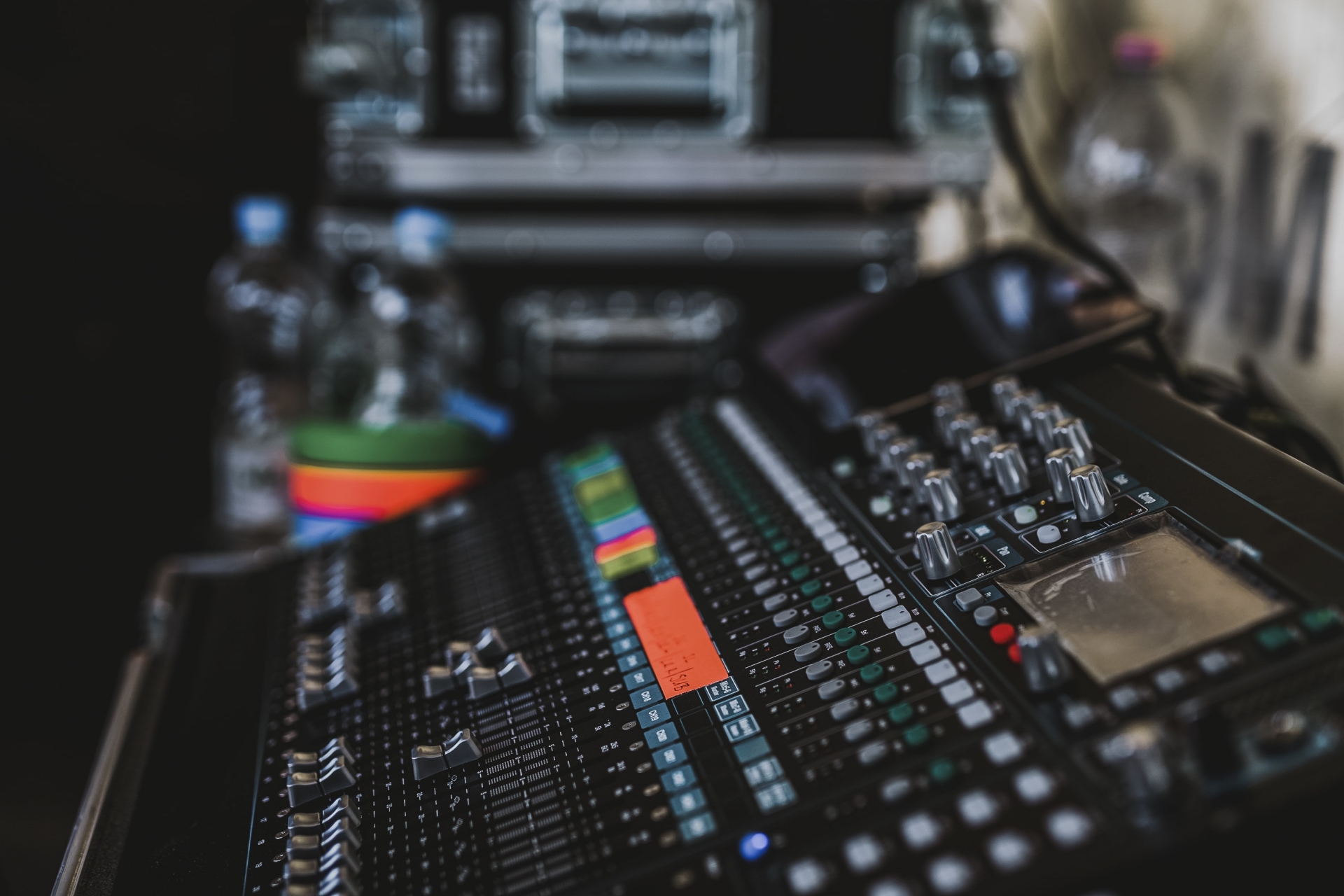 Why Intern?
Internships allow students to apply theory discussed in coursework to a practical experience. Students will learn how to approach an employer they might be interested in and how to ensure they present themselves as a candidate for consideration. CSUSB, Norco, and SBVC believe students will develop skills that will help them in their career endeavors long after they leave our campuses. We know that networking skills, job search skills and developing effective communication skills will help them not only find a job but advance within their field or organization.
To further enhance student career readiness beyond the experience that the internships will provide, we propose that students entering this internship program first complete a series of workshops that will provide them with specific skills needed to be successful either in their job search or in their endeavor to start their own business. These workshops will be offered through either the CSUSB Career Center or the CSUSB Center for Entrepreneurship.
Here to Career Internship Award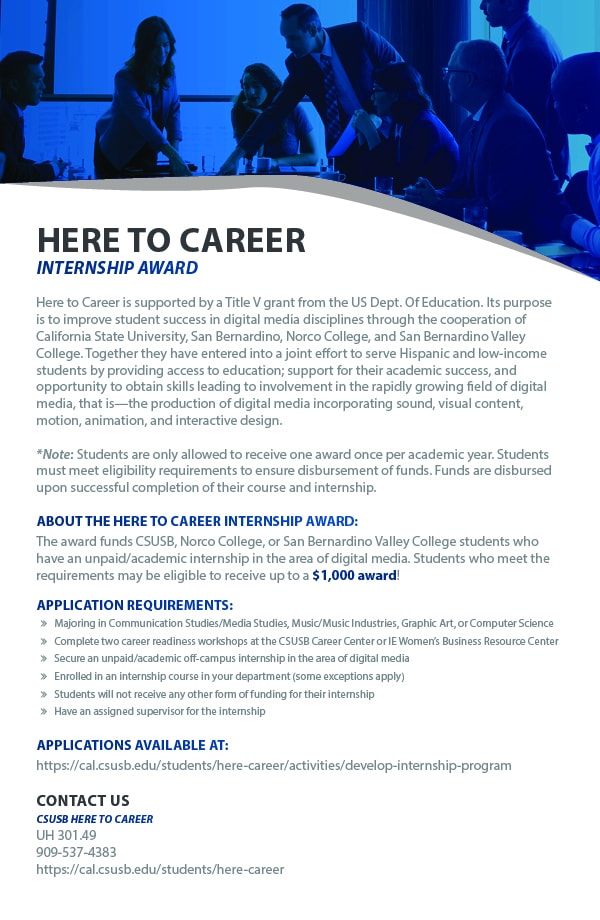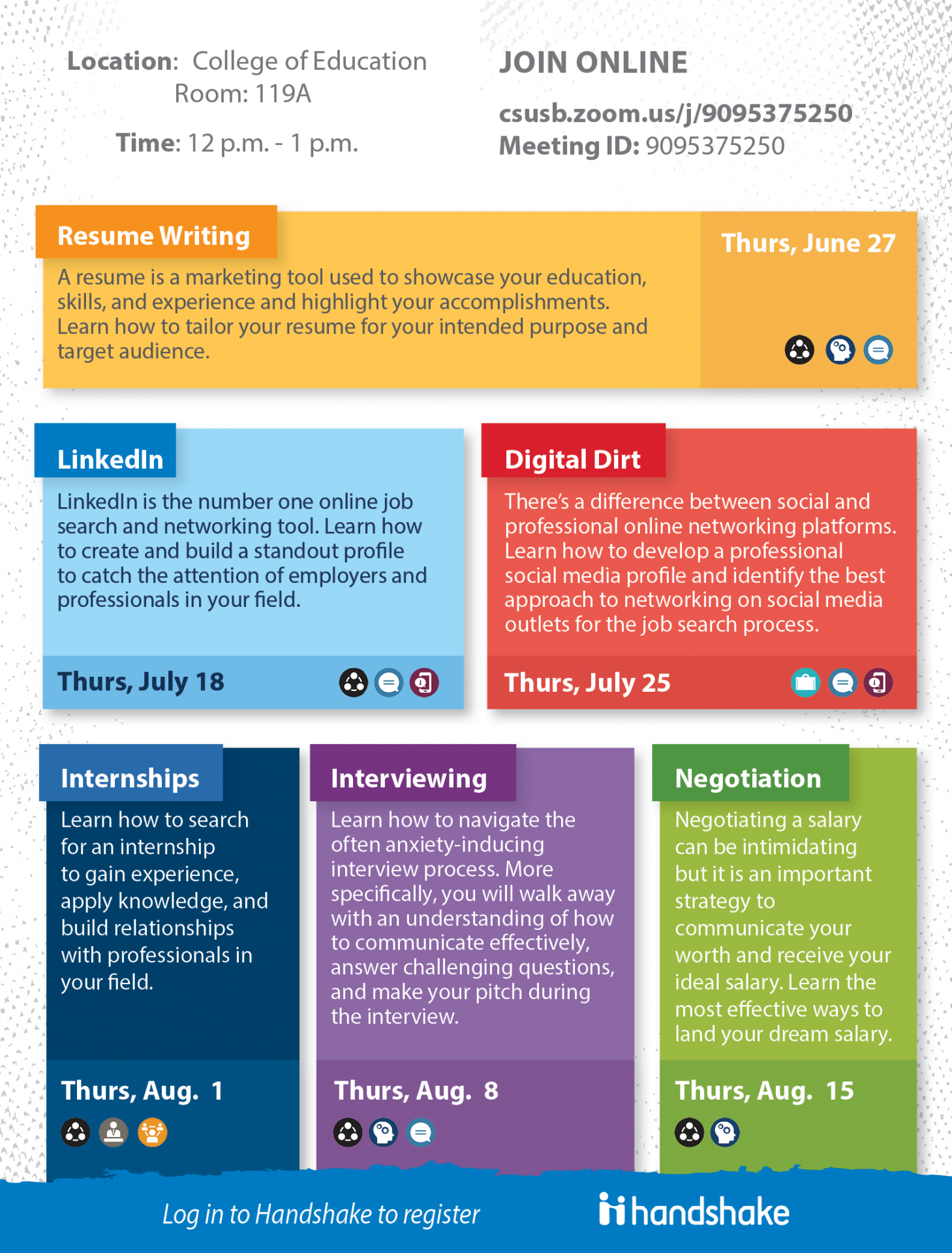 Location: College of Education
Room: 119A
Time: 12 p.m. – 1 p.m.
 
Join Online
Csusb.zoom.us/j/9095375250
Meeting ID: 9095375250
 
Resume Writing-    Thursday, June 27
A resume is a marketing tool used to showcase your education, skills and experience and highlight your accomplishments.  Learn how to tailor your resume for your intended purpose and target audience.
 
LinkedIn- Thursday, July 18
LinkedIn is the number one online job search and networking tool. Learn how to create and build a standout profile to catch the attention of employers and professionals in your field.
 
Digital Dirt- Thursday, July 25
There's a difference between social and professional online networking platforms. Learn how to develop a professional social media profile and identify the best approach to networking on social media outlets for the job search process.
 
Internships- Thursday, August 1
Learn how to search for an internship to gain experience, apply knowledge, and build relationships with professionals in your field.
 
Interviewing- Thursday, August 8
Learn how to navigate the often anxiety-inducing interview process. More specifically, you will walk away with an understanding of how to communicate effectively, answer challenging questions, and make your pitch during the interview.
 
Negotiation- Thursday, August 15
Negotiating a salary can be intimidating but it is an important strategy to communicate your worth and receive your ideal salary. Learn the most effective ways to land your dream salary.
 
Log in to Handshake to register