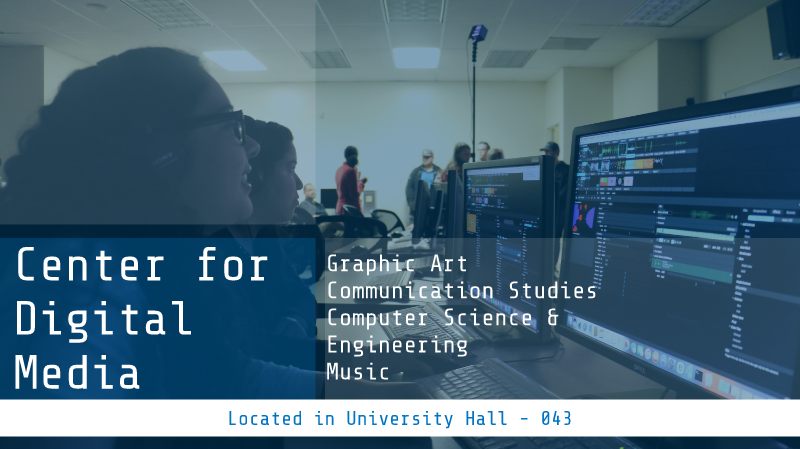 About the Center for Digital Media
The Digital Media Center has developed around collaborative project based learning through partnership with the Title V grant "From Here to Career". Physically, it is a lab furnished with 24 workstations, a teaching workstation, and a video projection system capable of sharing in a multi-screen/multi-platform/multi-device format. This enhances both full class instruction as well as small group multidisciplinary projects. An extensive server accesses information developed in the Digital Media Center or labs of participating media departments. Software is provided which reflects the primary software used to generate media projects within these departments.
However, to be successful, we believe that technology must be accompanied by a human element. The environment is conducive to both collaboration and learning. We have open lab hours with expertise to help users better understand familiar software found within their discipline as well as complimentary software used by other disciplines. Such an approach encourages students and faculty to create projects with synergy. Also, we outreach to campus based student organizations whose members are highly motivated and are interested in collaborating with other such student organizations. This enthusiasm for experiencing collaboration can be seen in departmental classes and project presentations alike.
We take "From Here to Career" seriously. The experiences that the Digital Media Center offer are on a professional level. Media corporations are looking for employees that have experience in working with others in a multidisciplinary environment. Through common projects, they communicate and gain an understanding of each discipline and how it compliments their own area of expertise. By working with one another on a common project, this becomes self-evident and carries over to the paid internship program found within the grant as well as fortifying future "Career" opportunities.