Thank you for considering a gift to help us keep our shelves full!
To make a financial gift, please click on the link below and select Obershaw DEN in the drop down menu.
Make a Gift to the Obershaw Den
Our Obershaw DEN gift account is P207418.
If you have donation for Obershaw DEN you may stop by Faculty Office building room 237 to drop off your donation or simply contact us for pick-up. If you/your office or department would like to tour The DEN and see first-hand how these services are offered, please contact us at 909-537-FOOD and we'll be happy to make an appointment to show you around!
Food items, we need: canned meat (tuna, chicken, etc.), peanut butter, canned fruit of any kind, fruit cups, pudding cups, individual applesauce, mac and cheese cups, ravioli cups, and other individually packaged food that can go into a day pack of food for students.
Hygiene items, we need: deodorant (for men), razors, shaving cream, toothbrushes, toothpaste, and lotion.
We also accept gift card for a local grocery store, you can either purchase one directly or give through the Faculty/Staff Annual Campaign – just indicate Obershaw DEN on your donation card.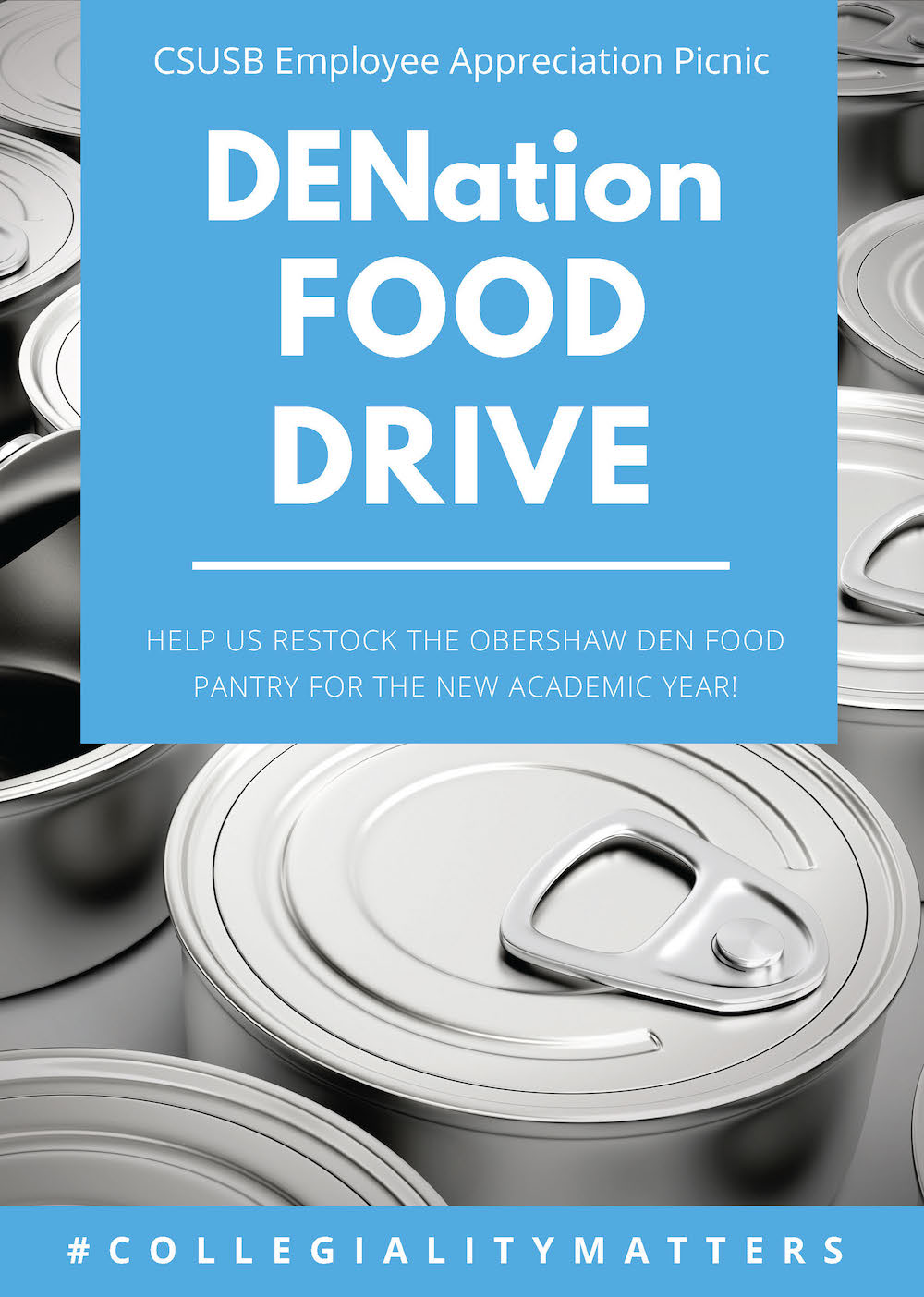 CSUSB Employee Appreciation Picnic
DENation Food Drive!
Help Us Restock The Obershaw Den Food Pantry For The New Academic Year!
#COLLEGIALITYMATTERS
 
It is time to restock the shelves of CSUSB's Obershaw DEN campus food pantry for the new academic year!  We are excited to join the President's Picnic Committee to host a donation food drive at the fourth annual picnic. Last year the campus donated more than 4,500 pounds of food, hygiene items, cash/check and gift cards! University Advancement and the President's Office took home the trophy! Who will be next?!
 
The DENation Food Drive has become one of the signature highlights of CSUSB's Employee Appreciation Picnic. Every year administrators, faculty and staff come together with one common goal; to restock the Obershaw DEN Food Pantry! A friendly competition amongst divisions to kick off the new academic year; the winner gets bragging rights and can proudly display the DEN trophy for the year and have their division's name added to it!
 
We will be collecting donations on Friday, September 13th during the Employee Appreciation Picnic at a booth in front of the Pfau Library. Donations will be sorted by division and then weighed – the division that donates the most pounds will be champion! We will be posting the results by division throughout the picnic so you can see who is leading….perhaps you will make a final cash contribution to put your division into the winner's circle, to be announced at 1:00 p.m. the day of the picnic! 
Also, for every $10 in cash or grocery store gift cards donated, your division will be credited with a donation of 5 pounds of food.
Here is our preferred items list: 
Food
Canned fruit
Macaroni and Cheese box dinners
Macaroni and Cheese microwave cups
Spaghetti noodles
Pasta sauce
Granola bars
Food (continued)
Canned meat (tuna, chicken, etc.)
Breakfast cereal
Peanut butter
Jelly or jam
Fruit cups or pudding cups
Canned pasta (Cher Boyardee or Spaghettios, etc.)
Hygiene Items
Razors
Deodorant
Shaving cream
Toothpaste
Toothbrush
Body wash
Thank you For Donating to Obershaw DEN
Hey 'Yotes hopefully everyone is having a wonderful summer break! Although we are on break; it is still very important to thank our #CSUSB family who donated to Obershaw DEN food pantry for the month of  July 2018.
Michelle Behne-Information Security & Emerging Technologies
Terri Carlos-University Advancement
Dena Chester-University Budget Office
Kimberly Hunsaker- Student Health Center
Brandon Johns-Philosophy Department
Provost Shari McMahan-Academic Affairs
Jose Munoz-Sociology Department
Maria Munoz-Academic Curriculum & Scheduling
Diane Podolske-Office of Community Engagement
Johnnie Ann Ralph-Retiree of CSUSB
Academic Affairs Division
Philosophy Department
We also like to give a special thanks to our fellow 'Yotie, Juan Ochoa.
Thank you for all your continuous support of our food pantry, Obershaw DEN (Delivering Emergency Nourishment for CSUSB students)!