The Student Advocate Project was initiated Fall 2018 with the purpose of increasing student participation across campus. Students on this team are directly a part of the decision making process as members to campus wide committees. Student Advocates are also the leading team on assessment focused on gathering student feedback relating to student issues.
The Student Advocates are responsible for supporting the ASI Executives and Board of Directors by representing student interests on various campus-wide committees. The campus community can request a student to sit on a committee by clicking on the following: Student Leader Request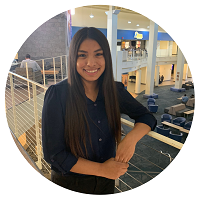 Daisy Ramos
Major: Business Management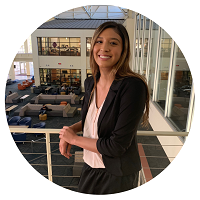 Elena Carolla
Major: Psycology
Committees Serving On (Campus-wide)
Campus Dinning Advisory Committee: The Campus Dining Advisory Committee was initiated by University Enterprises Corporation and Coyote Dining to provide an immediate channel for students, faculty, and staff to provide feedback on the campus dining program. This student-led committee contains representation from ASI, SMSU, DHRE/RHA,undergraduate and graduate students, faculty and staff. The committee is currently partnering with CoyoteDining on the new "We Got You Covered" campaign in response to campus feedback about available dining options. Please be on the lookout for the "We Got You Covered" flyers throughout Coyote Dining locations. 
Campus Fee Advisory Committee: The Committee considers proposals for the establishment and adjustment of Category II or Category III fees and provides recommendations to the President. The President consults as appropriate with the ASI Board of Directors and the Faculty Senate concerning these recommendations.
Children's Care Center Teaching School Feasibility Study: The feasibility study is the assessment and further development of the campus master plan vision of co-locating the Children's Center program with the Institute for Child Development and Family Relations academic program.
Children's Center Advisory Committee
College of Education Dean Search
Commuter Engagement Committee: The purpose of this committee is to enhance the overall experience of commuter and transfer students by determining their needs, becoming advocates for intentional messages and assisting those students with navigating their engagement pathways.
Educational Policy and Resources Committee: This committee shall evaluate, initiate and review educational policies and plans and make budget recommendations to the President or designee. The committee shall also act as a consultative body in matters regarding facilities planning. The committee shall participate in the development of the academic master plan; and review and develop criteria for the adoption, modification or termination of courses and programs. 
GI2025 Nurturing Student Engagement and Wellness Subcommittee: Provide recommendations for quality co-curricular programs that boost retention and graduation rates, build upon social and co-curricular opportunities that foster student involvement and build affinity to CSUSB, support academic development through supplemental instruction.
Graduate Council: Discusses administrative aspects of graduate programs on campus, such as program requirements.
Instructionally Related Activities, IRA: Reviews IRA proposals and allocates funds to programs based on the proposals.
IT Governance Executive Committee: The IT governance executive committee is responsible for establishing and communicating a campus-wide IT vision that supports the University mission and goals Establishing IT policies that support strategic, campus-wide IT priorities Defining technical architecture and standards for the University Establishing best practices and tools for IT across campus.
IT Governance Sub Committee - Technology Operations and Customer Support: The subcommittee helps drives best of Class Customer Support, Infrastructure Centralization and Standardization, End User Empowerment, Operational Sustainability and Excellence, PDC Technology Enhancements and Support, High Performance Computing, Research Networks, Enterprise Applications Development.
President's Housing Occupancy Task Force: Discusses housing and initiatives to increase the occupancy rates within on campus housing,
Q2S Advising Subcommittee: The Advising Subcommittee works on planning the transition from quarter to semester systems.
Registration Appointments Task Force: Looks over and reviews the priority registration process.
Search Committee for CAL Dean
Search Committee for the Associate Vice President and Dean of Students
Search Committee for the Associate Vice President for Enrollment Management
Search Committee for the Director of the Office of Financial Aid and Scholarships
Search Committee for the Title IX Associate Director
SOTE Subcommittee of the Senate Faculty Affairs Committee: Review of current SOTE system, the effectiveness of SOTEs and addresses the improvement of SOTEs
SRT Grant: Reviews SRT Grant proposals and disburses funding to selected proposals.
Student Success Initiative Advisory Board: The SSI Advisory Board meets quarterly to review SSI data trends and provide feedback to the SSI Steering Committee on matters related to SSI impact, barriers to success, and make recommendations for improvement.
Student Success Initiative Committee Steering Committee: Makes recommendations on the allocation of student fees ($3 million per year)
University Curriculum Committee: The UCC checks for coherence in the course descriptions and program organization.
Vice President for Student Affairs Search Committee
Wellness Collaborative Group