The BA in Art Plan III and the new BA in Art History & Global Cultures programs, offered by the Department of Art & Design, introduce students to the history and development of visual art in order to understand art and culture as part of larger social and historical contexts.

Why study art history? Students will gain scholarly skills, knowledge and experience in research and methodologies to see how things such as artistic traditions, art media and movements, social conditions such as war, religion, politics, and changes in technology have had an effect on not only the artist, but on the artwork that was produced as well. As in other disciplines in the Humanities, students develop their ability to formulate ideas orally and in writing in order to master the skills of scholarly argumentation and writing in art history.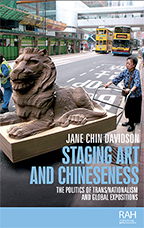 Dr. Jane Chin Davidson -- as a researcher of contemporary art and performativity at the intersection of globalisation-- works closely with students to develop their own special area of expertise, from a broad range of cultural traditions and time periods of art history. She received her B.A. in Art History at Reed College and her doctorate in Art History and Visual Studies at the University of Manchester, England.
  
Her latest book, Staging Art and Chineseness: Politics of Trans/Nationalism and Global Expositions, Manchester: University of Manchester Press, forthcoming 2019. 
Browse Professor Davidson's published books and articles.

The BA in Art History/Global Cultures prepares students for matriculation into graduate programs:
MA leading to the terminal Ph.D. Degree in Art History, Global Art Cultures, and Visual Studies
MA leading to the terminal Ph.D. Degree in Curatorial Studies and Museum Studies
The unique combination of skills that art history teaches—visual analysis and its written communication— students having excellent foundations for work in:
Museum
Museum curators
Commercial art gallery managers
Museum/ gallery managers
Museum/ gallery exhibition manager
Museum educator officer
Art appraisal and historic preservation
Collections manager
Art Restoration
Education/Art Administration
Art history teacher
Art librarian
Archives and records management
Art Administration researcher
Art Foundations and Grants researcher
Art Publications editorial work
Writing about art in diverse contexts: informal and scholarly
Community Art Programs
Our Art History majors have ready access to a visual resources collection of study images on a variety of subjects and with the most current research resources and facilities, including the Visual Resource Center on site, and the John Pfau Library. Scholar Art is a peer-reviewed journal for art history students who wish to publish their papers, and the publication provides opportunities for students to learn how to edit papers and work on the online presentation of essays.

Students taking art history courses will learn about modern and contemporary media, such as performance art.  The capstone in art history provides majors with the opportunity to present their papers at a conference and to publish their papers in ScholarArt.