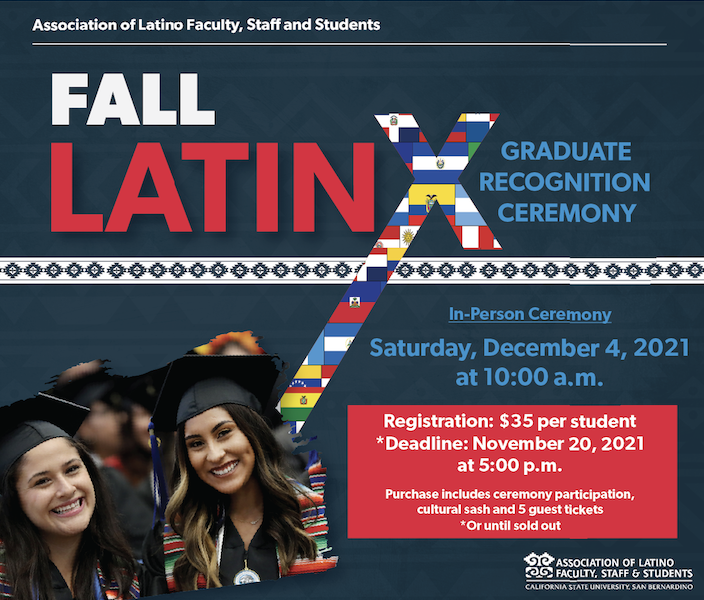 ¡Felicidades Class of 2021!
The Association of Latino Faculty, Staff and Students (ALFSS) invites Fall 2021 graduates to participate in the Fall Latinx Graduate Recognition Ceremony. 
Event Details:
Live Virtual Ceremony: Saturday, December 4 at 10:00 AM
Registration: $35* per student (purchase includes ceremony participation, cultural sash and 5 guest tickets)
Deadline: November 20, 2021 at 5:00 PM (or until sold out)
*Non-refundable
Register for the 2021 LatinX Grad
Ceremony Agenda:
Event time: 10:00 AM – 12:00 PM
Doors Open & Entertainment: 9:00 AM
Location: Santos Manuel Student Union, Events Center
Interested in being the Student Keynote Speaker?
The Association of Latino Faculty, Staff and Students (ALFSS) is looking for a fall semester graduating student to give the Keynote address to their peers for the Fall Latinx Graduate Recognition Ceremony on Saturday, December 4. 
We are seeking:
A student comfortable with public speaking
Has good academic standing with the University
Willing to share their compelling story to inspire fellow graduates
Commit to 3 rehearsal dates
Please submit a video of your 3 – 5 minute speech to Latinograd@csusb.edu
Deadline to submit audition video is October 29th at 5:00 p.m.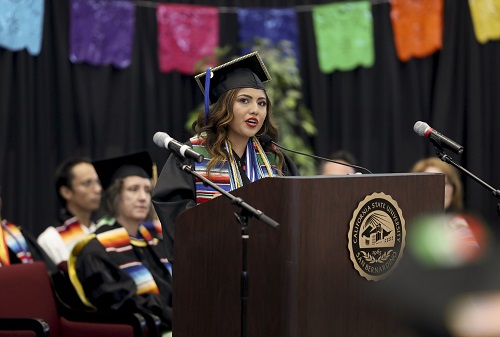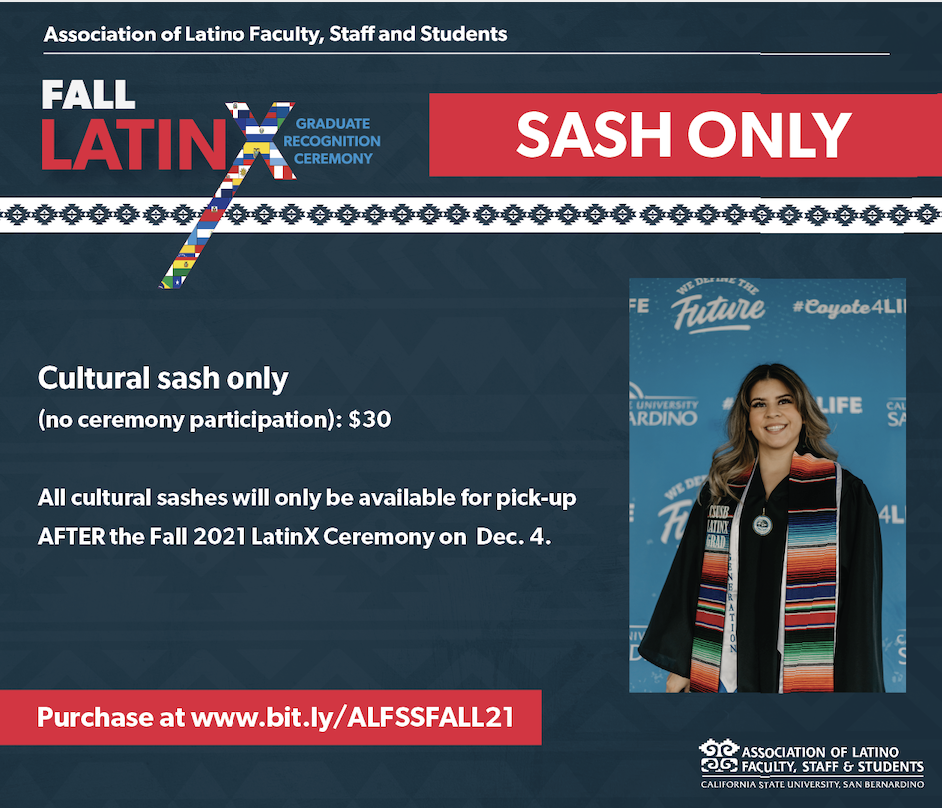 Cultural Sash Only 
If you are unable to attend the ceremony, graduates have the option to still purchase the cultural sash which can be worn to the official commencement ceremony. 
Cultural sash only - $30 (no ceremony participation)
Purchase Latinx Cultural Sash only
All "sash only" purchases can be picked up between Monday, December 6 and Friday, December 17 in the Santos Manuel Student Union, room 206 (second floor) from 9:00 am - 4:00 pm. Any cultural sashes not picked up by Friday, December 17 will be forfeited. Must bring proof of purchase.  
Frequently Asked Questions
FAQs
Question
Answer
What is Latinx Grad?
The Latinx Graduate Recognition Ceremony is a cultural celebration that recognizes ALL graduating students. The event is hosted by the Association of Latino Faculty, Staff & Students (ALFSS).  This ceremony is separate from regular commencement ceremony and takes place on campus. Also, all graduates will be given an opportunity to give a "shout-out" at the microphone giving brief remarks to thank their loved ones during the ceremony. 
What is the cost to participate in Latinx Grad?  
The cost is a $35 registration fee that includes a cultural sash that will be presented during the ceremony and up to 5 free guest tickets. There is also an option for a "sash only" purchase; this includes the purchase of only a cultural sash ($30) and no participation in the ceremony. 
I purchased "sash only", when can I pick the sash up?
 All "sash only" purchases can be collected between Monday, December 6 and Friday, December 17 in SMSU 206 from 9am-4pm. All cultural sashes not picked up by Friday, December 17 will be forfeited.  
Should I wear my cap and gown?
Cap and gown are optional but highly recommended. ALFSS may be able assist you with a gown if you are in need, please contact Latinx Grad for details at latinograd@csusb.edu.  
When is the deadline to register?
Registration deadline is Friday, November 19 or until SOLD OUT. Capacity is 100 graduates including guests so purchase early.
What time should I be there?
Grad Check-In is 9:00 am, the ceremony begins at 10:00 am. Make sure to be on time to walk- in with all the grads!! 
What is the shout-out?
During the live ceremony, students will have their name announced and then will have their video appear on screen. You will be given the opportunity to say a few words in the language of your preference. You will have 10 seconds (or less) to say thanks to those who supported you along the way!
What do I have to say at the microphone? Do I have to speak?
Speaking on the microphone is optional. Every graduate will walk through the stage, have their name announced and will be given the opportunity to say a few words in the language of your preference. You will have 10 seconds (or less) at the mic to say thanks to those who supported you along the way! 
Is the ceremony in English or Spanish?

The majority of the celebration will be in English with parts of the ceremony in Spanish or Bilingual. There will be entertainment in Spanish. 

Can I only participate in one graduation ceremony (e.g., university commencement or Latinx Grad)?
Students are welcome to participate in both ceremonies or just one, it's up to you and how you'd like to celebrate your accomplishment!
Where do I get my free guest tickets?
Graduates may pick-up their complimentary guest tickets by bringing printed receipt to the Student Union Program Board Office (SMSU 206) during business hours (Mon-Fri. 9AM-4PM) beginning Monday, November 22. All students will be required to submit guest information prior to picking up tickets. You will be emailed a link to complete guest ticket information after registration. Tickets will not be given out until this information is collected.
What if I'm unable to pick up the tickets?
All guest tickets will need to be picked up from SMSU 206 between Monday, November 22 and Friday, December 3 at 4pm. Any unclaimed tickets will be forfeited and unable to use during the ceremony on Saturday, December 4.  
Are additional tickets available? 
No additional friends/family tickets are available for purchase during Fall Latinx Grad. Your registration comes with 5 complimentary tickets. Guests must have a ticket to enter the Events Center including children 2+.  
How will you handle seating? 
Guest seating will be a first-come, first-served basis with doors opening at 9:00 am. If your guests come early, they may be asked to wait until the Events Center is ready. Graduates will sit together at the front of the Events Center and will walk in together no matter the college or major. Typically, Graduate Students then Undergraduates. Students are encouraged to sit with their friends.  
Who else will be at Latinx Grad? Any guest speakers? Will my professors be there? 

The event will include various cultural entertainment, faculty and staff from CSUSB. 

There will be a student keynote speaker. One of your peers will be selected to speak on behalf of all grads. ALFSS has invited ALL faculty to participate, but if you would like your professor to be there make sure to extend that invitation to them personally. If you want ALFSS to contact them directly, let us know!  

How do I sign up to be the student keynote speaker? 
 If you are interested in auditioning as student keynote speaker, please email a 3-5 minute audition to latinograd@csusb.edu by Friday, November 19 at 5pm. 
Where do we park?
Parking in Lot D will be the closest to the Student Union Events Center. All guests will either need to display a valid CSUSB parking permit or purchase a $6 parking permit. 
Will my photo be taken?
Yes, GradImages will be photographing each student and photos will be available for purchase after the ceremony. Each student will be emailed complimentary proofs of their photos and can purchase online at https://www.gradimages.com/.  
What if I need disability accommodations?
Requests for disability accommodations must be made to Services to Students with Disabilities (SSD) by calling 909-537-5238 (Voice), 909-537-7230 (TTY) or emailing ssd@csusb.edu. Requests must be made 72 hours in advance.
How can we help spread the word?

Tell all your friends about it and share on your social media. Follow ALFSS on social media:

Instagram: @alfss_csusb
Twitter: @alfsscsusb
Facebook: ALFSScsusb
For the safety of all guests the following items will NOT be allowed into the Events Center: 
Backpacks, large bags (16"x16"x8"), oversized purses, wrapped gifts, balloons, outside food or drinks, silly string, selfie sticks, lasers, chains, horns, fireworks, lighters, matches, weapons, or anything that may cause concern. 
Searches will be conducted at the doors.