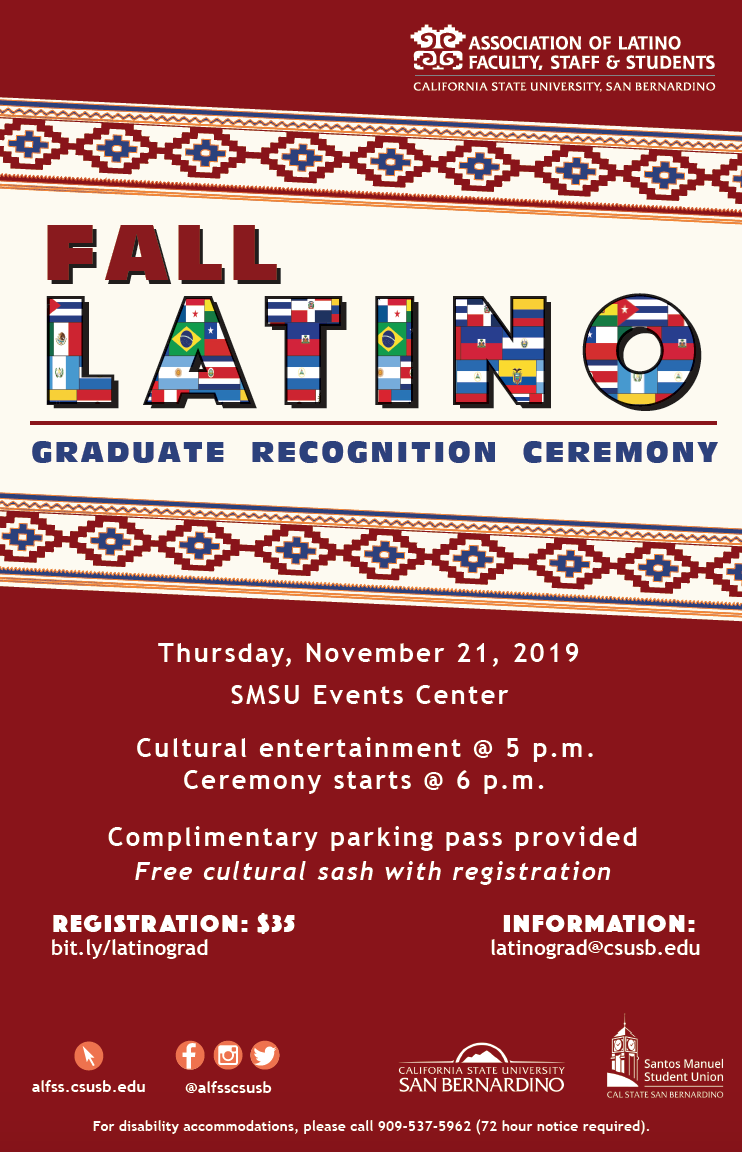 Hosted by ALFSS
*** ALL SALES FINAL, NO REFUNDS **
Fall Latino Graduate Recognition Ceremony 2019
Thursday, November 21, 2019
Cultural entertainment @ 5 p.m.
Ceremony starts @ 6 p.m.
Complimentary parking pass provided
Free cultural sash with registration
Information: latinograd@csusb.edu

For accessibility accommodations, please call 909-537-5962 (72 hours notice required).
EVENT DETAILS
Fall Latino Graduate Recognition Ceremony
Hosted by the Association of Latino Faculty, Staff and Students (ALFSS)
Graduate check-in is from 4:30 - 5:30 pm on the second floor of the Santos Manuel Student Union (SU Four Plex 215-218)
SMSU Events Center Doors Open and Cultural Entertainment begins at 5:00 pm
Graduates will process in at 6:00 pm
Ceremony will conclude by 8:00 pm
Cultural Sash is presented to graduates during the ceremony. During the ceremony graduates are given an option to say brief remarks or a quick shout-out on stage in any language they choose.
Cap and gown are optional but highly recommended. ALFSS may be able to assist you with a gown if you are in need, please contact LatinoGrad@csusb.edu for details.
Complimentary parking pass must be printed and placed on the dash of each guest vehicle in lot C or D only. 
For the safety of all guests the following items will NOT be allowed inside the venue:
Backpacks, large bags (16'X16'8'), over-sized purses, wrapped gifts, balloons, silly string, selfie sticks, lasers, chains, fireworks, lighters, matches, weapons, or anything that might cause concern. Searches will be conducted at the door.