What is Donor Relations?  
The mission of the Donor Relations Office is to nurture existing relationships with the goal of promoting positive attitudes toward giving among current and prospective donors. Through timely and appropriate acknowledgement, reporting, recognition and engagement, the Donor Relations team will foster continued and increased support.
Donor Bill of Rights
Philanthropy is based on voluntary action for the common good.  It is a tradition of giving and sharing that is primary to the quality of life.  To assure that philanthropy merits the respect and trust of the general public, and that donors and prospective donors can have full confidence in the not-for-profit organizations and causes they are asked to support, we declare that all donors have these rights.
To be informed of the identity of those serving on the organization's governing board, and to expect the board to exercise prudent judgement in its stewardship responsibilities.
To have access to the organization's most recent financial statements.
To be assured their gifts will be used for the purposes for which they were given.
To receive appropriate acknowledgement and recognition.
To be assured that information about their donations is handled with respect and with confidentiality to the extent provided by the law.
To expect that all relationships with individuals representing organizations of interest to the donor will be professional in nature.
To be informed whether those seeking donations are volunteers, employees of the organization or hired solicitors.
To have the opportunity for their names to be deleted from mailing lists that an organization may intend to share.
To feel free to ask questions when making a donation and to receive prompt, truthful and forthright answers.
Donor Funds
There are two generally types of donor funds:
Endowment - $10,500 and above
Philanthropic gifts for endowments are critical to ensure a permanent source of support for CSUSB's extraordinary students who are pursuing their educational dreams and striving to achieve their goals for a better future. Endowments create an enduring legacy for our donors while transforming the lives and futures of many bright, promising students, and the exceptional faculty who teach and mentor them. An investment in CSUSB is an investment in the present and the future. From academics to athletics, faculty support to service learning, program enhancements to student life, endowments provide a consistent source of support that we rely on to enhance the CSUSB experience.
Expendable - $5,250 and above
Expendable funds are donations, grants or contracts that can be used directly to fund a particular or general activity.
Profiles in Giving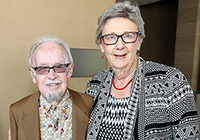 Charles and Shelby Obershaw
Charles and Shelby Obershaw
Obershaw DEN Food Pantry
The DEN Food Pantry, which helps Cal State San Bernardino students in need with food and supplies, officially took on its new look and new name — the Obershaw DEN Food Pantry — at a grand reopening ceremony on Sept. 28, 2019 thanks to the generosity of philanthropists Charles and Shelby Obershaw.
Along with the gift to the food pantry, the Obershaw's gift earlier this year will create the Charles and Shelby Obershaw Endowment for Student Success, a fund that will support the social and academic success of students in CSUSB's Educational Opportunity Program (EOP), Renaissance Scholar program and the Entrepreneurship program in the Jack H. Brown College of Business and Public Administration.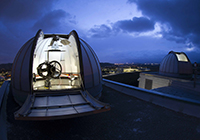 Murillo Family Observatory
George and Pauline Murillo
Murillo Family Observatory
The Murillo Family Observatory, named for philanthropists George and Pauline Murillo, is the only research observatory in the Inland Empire. Pauline Murillo was an elder with the San Manuel Band of Mission Indians.
The observatory was named after the family of philanthropists George and Pauline Murillo, who donated $800,000 toward the $3 million project. Pauline Murillo, who passed away in January 2011, was an elder with the San Manuel Band of Mission Indians. Statues of Pauline and George Murillo grace the observation deck.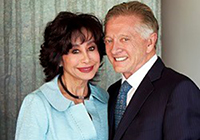 James and Judy Watson
Watson & Associates Literacy Center
The mission of the Literacy Center is to assist students, grades kindergarten through 12, to improve their listening, speaking, reading, and writing skills. Funded by a generous grant from Watson and Associates, the Center offers interactive tutoring within carefully designed programs.