Welcome to the Enrollment Management E-Newsletter! Within this newsletter, we will provide students, staff, and community partners with helpful information pertaining to deadlines, reminders, projects, and resources — that take place within our division.
Our offices include the Office of Orientation and First-Year Experience, Office of the Registrar, Office of Financial Aid and Scholarships, and the Office of Admissions and Student Recruitment. Our goal as the Enrollment Management department is to empower all students by providing the tools and information required for academic success, and becoming a #Coyote4Life!
CSUSB: Quarter to Semester Conversion  
The Quarter to Semester conversion (Q2S) is scheduled for completion in Fall 2020. In this article, we would like to provide the various ways Q2S will affect the Cal State San Bernardino student body. CSUSB will join the other 22 campuses that currently operate on the semester academic school year. Q2S will provide many benefits to students: by increasing the number of summer internships, CSUSB is providing students several great opportunities to become increasingly competitive nationwide; the semester calendar is also compatible with all California Community Colleges— making the transfer process more intuitive and streamlined. "Additional support and greater opportunities for mentoring are sure to contribute positively to student learning and retention," said Shari McMahan, Academic Affairs Provost. "Student success remains our top priority at CSUSB," she further stated.   
How will Q2S affect my schedule?  
The semester system provides two (2) instructional terms a year: 
Fall and Spring 
Summer term is optional  
A semester contains 15 instructional weeks, with one week of finals 
Most semester courses are 3-units with shorter class times  
15 units are considered full-time; therefore, students typically take five (5) courses per term 
Students need 120-semester units to graduate
Spring commencement will be held in May, instead of June
A message from the Office of Financial Aid: In anticipation of the Q2S conversion, CSUSB encourages all students to take a proactive and mindful approach when preparing for the conversion financially. Carefully monitor your expenses by making mindful purchases. This habit can go a long way in saving more money throughout the semester. Also, students are encouraged to access the resources available on campus, such as, the Obershaw Den — which assists CSUSB students who face food insecurities.
How Q2S will affect my Financial Aid?  
Semester Conversion should not affect your financial aid package 
Financial Aid disbursements will occur only two (2) times during the academic school year 
The price of Per Term parking permits will increase 
The price of the annual parking permit will remain the same
Budgeting Tips for Q2S:  
Prepare to receive only two (2) disbursements
Think ahead and save
Keep track of your monthly and semester-long expenses
Determine 'Wants vs Needs'
Access resources available on campus 
*To access all the information regarding Q2S click here: https://www.csusb.edu/semester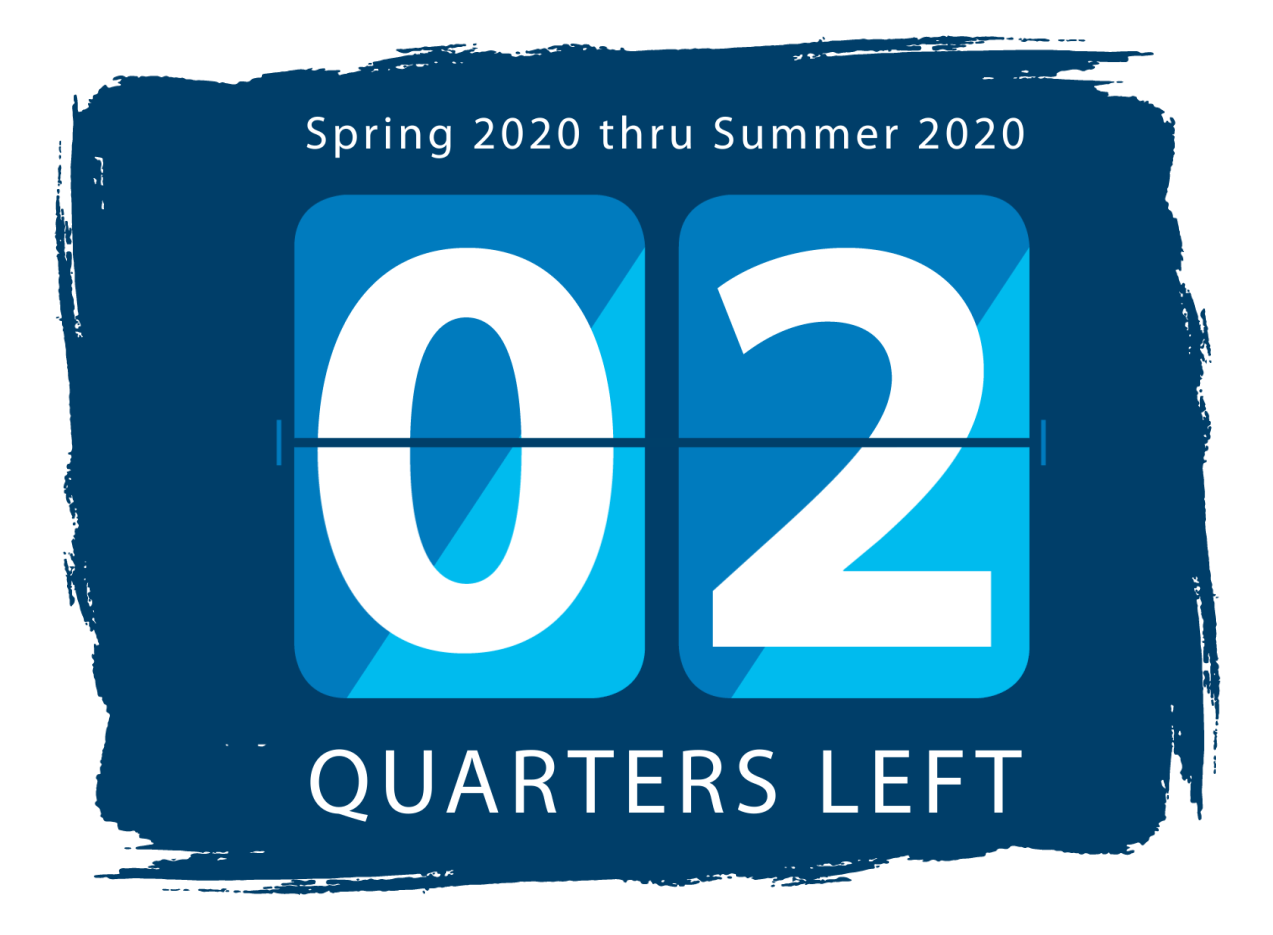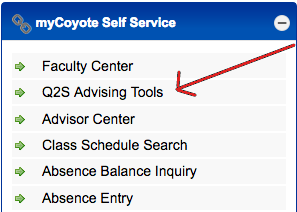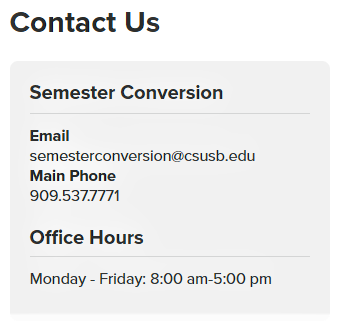 ---
23,500 Applications Received for Fall 2020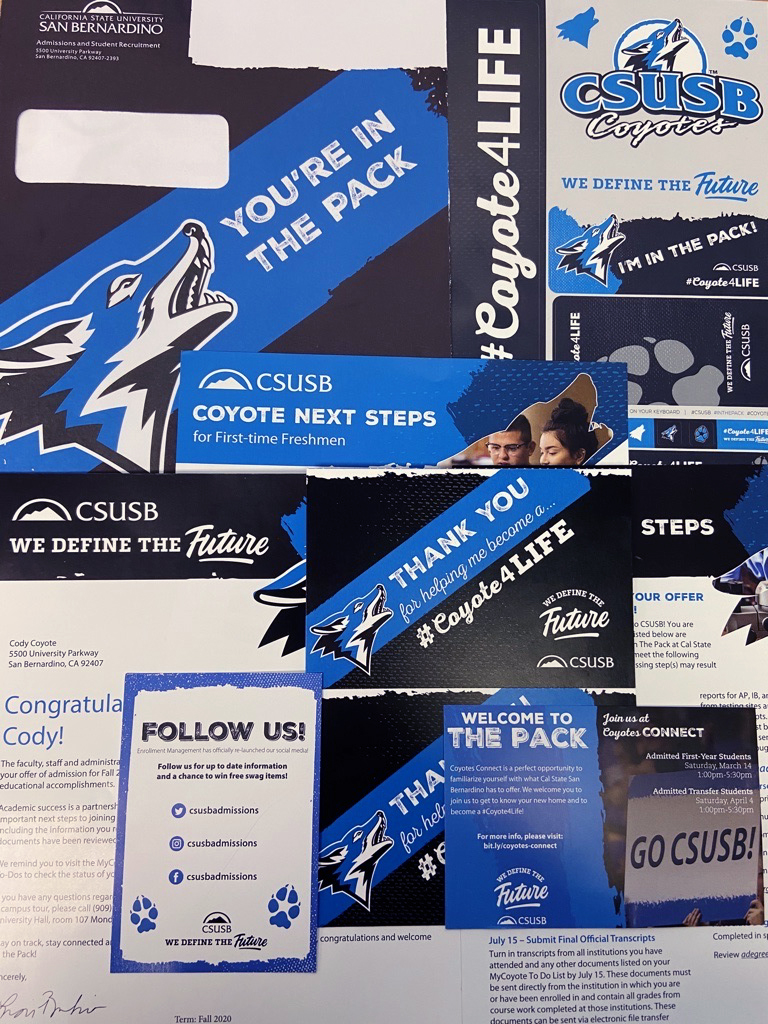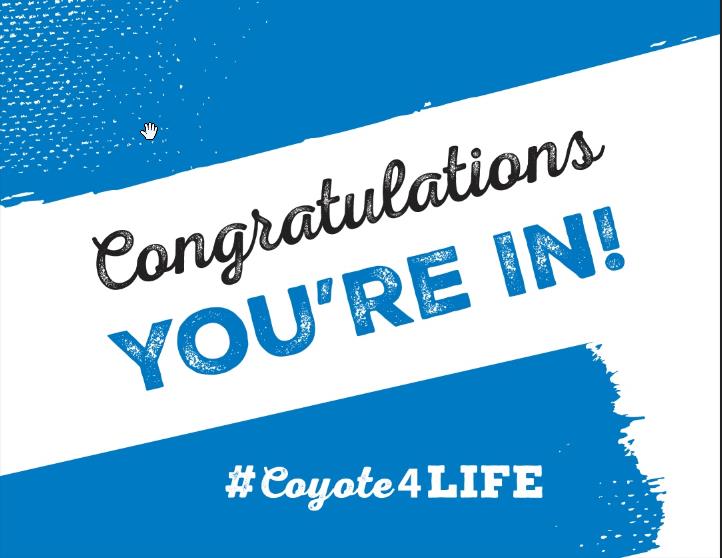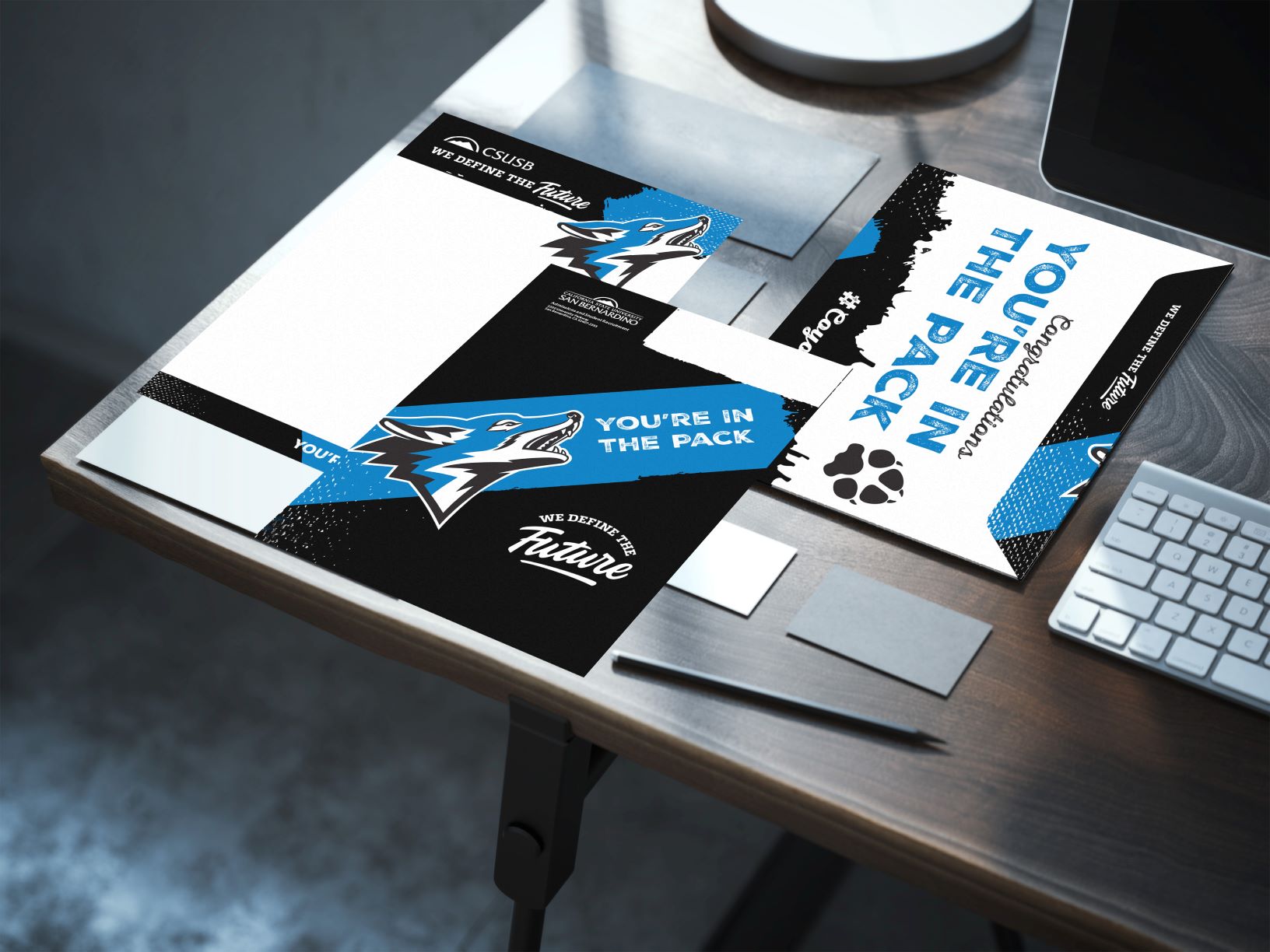 Cal State San Bernardino is proud to be a local serving institution — the mission of CSUSB is to empower students and ensure the success of our region. The Enrollment Management department works diligently in bridging the gap from high school to university and provides prospective students with the much-needed support to access higher education. This application period, CSUSB, received more than 23,500 applications for enrollment in the Fall 2020 Semester, and the Office of Admissions and Student Recruitment has worked tirelessly in identifying and admitting accepted students. Local students represent a significant portion of the applications received — 61% of all admissions applications are from first-time freshmen, half of which are local students. Additionally, 63% of all transfer applications were from local students as well, which speaks to the passion and dedication that the local region has for higher education. 
Among the thousands of submitted applications, there were 338 applicants for the CSUSB University Honors Program, which supports high-achieving students with the transition from high school to collegiate studies. The Director of the Honors Program, Dr. David W. Marshall, will send offer packets to prospective Honors students over the holiday break. For information about the University Honors Program and how to enroll, call (909) 537-747 or  
email honors@csusb.edu.  
* Listed are a brief set of requirements for admission, for complete information and to apply, visit: https://www2.calstate.edu/apply 
First-Year Freshman  
Unofficial transcripts 
Test Scores (SAT, ACT, AP, or IB) 
Social Security Number (if applicable) 
Annual Income  
California Student ID Number 
Upper Division Transfer Students  
Minimum of 60 semester or 90 quarter units completed
Be in Good Standing, at your last college
An overall G.P.A of 2.0 
Complete 10 General Education courses, with a C- or better
Complete the "Golden Four" courses 
Oral Communication
Written Communication  
Critical Thinking

Mathematics/Quantitative Reasoning
Additional information to consider when applying to CSUSB, the application for admission to the Fall 2021 semester will be available from October 1, 2020 – November 31, 2020. CSUSB is an impacted campus and the following courses have additional requirements for admission: Psychology, Criminal Justice, Social Work, Kinesiology, and Nursing. High school students interested in applying for an impacted major should remain in contact with their school counselors, and college/university students interested in transferring to CSUSB should rely on their transfer center. Other popular majors that are not impacted are Communication, Business, Marketing, and Management. 
As always, the Enrollment Management staff is available to assist and answer all questions pertaining to the admissions process, they can be reached at moreinfo@csusb.edu  
and (909) 537-5188.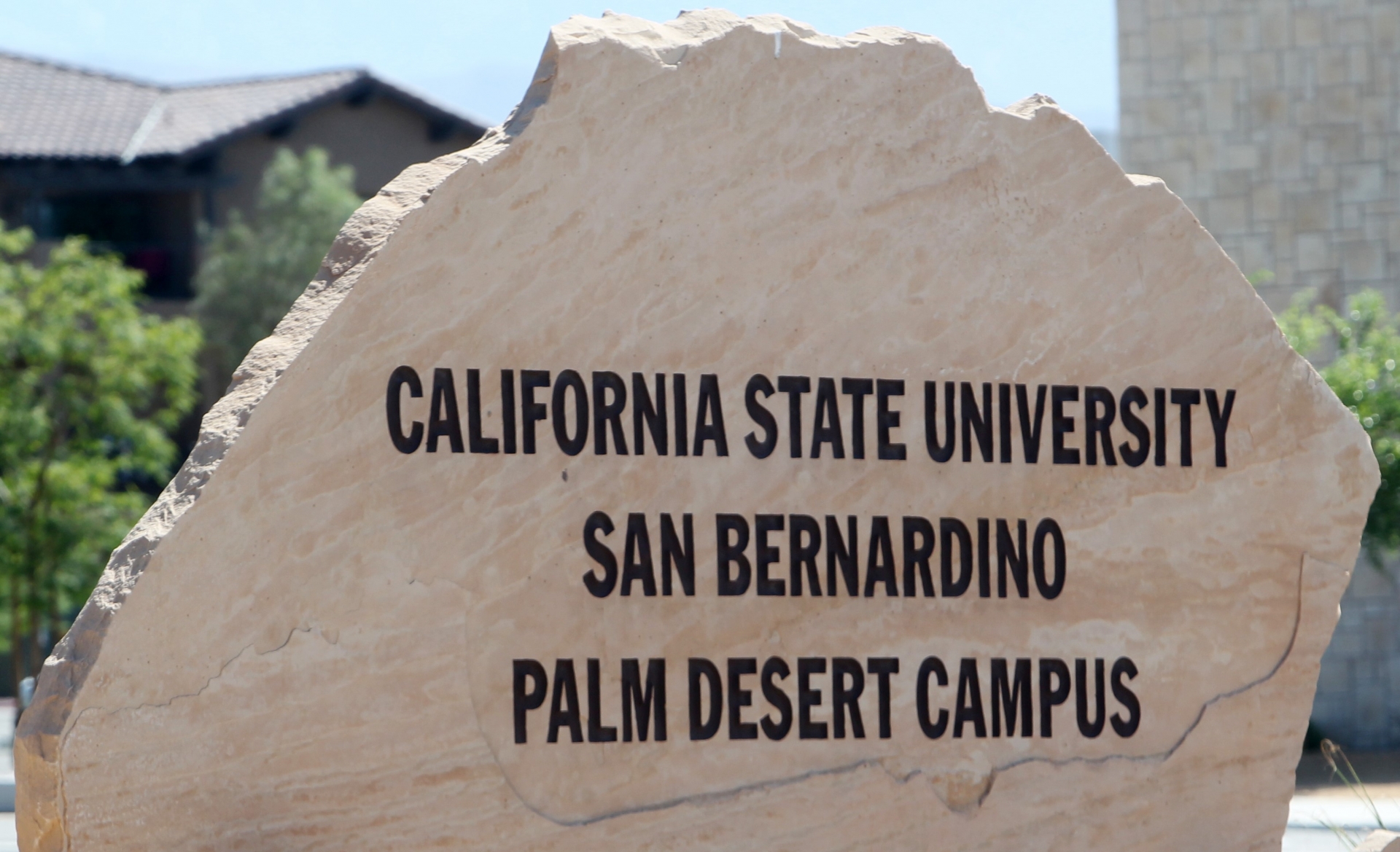 Palm Desert Campus
The CSUSB Palm Desert Campus (PDC) is located in the heart of the Coachella Valley and is considered the only four-year public institution in the region. PDC currently serves more than 1,400 students, primarily from the cities from Indio, Coachella, and Cathedral city— and plays a significant role in the education and training of the region's population. With popular undergraduate majors in Psychology, Accounting, and Management Administration and prominent graduate degrees in Public Administration and Education, the Palm Desert Campus serves the specific needs of the Coachella Valley. By offering the resources of a large university with a supportive environment and small class sizes, there are more opportunities for contact and networking with instructional faculty. Additionally, through the office of Outreach and Student Recruitment, PDC is available to prospective students to attend campus tours and events year-round.   
On November 6th, the Digital Arts Technology Academy (DATA) of Cathedral City High School visited the CSUSB Palm Desert Campus. The DATA Academy is an Apple Distinguished Program / California Partnership Lighthouse Academy, that curates an environment where students focus on photography, graphics, animation, filmmaking, video production, audio production, broadcast, game design, and leadership. During their visit to PDC, 60 (sixty) DATA Academy students participated in an informative Admissions presentation and an interactive campus tour; where students participated in the hands-on learning that PDC has to offer. Attendees also received a presentation about the Communications program that was led by Dr. Michael Salvador, professor, and Chair of Communication Studies.    
Furthermore, on November 18th, PDC hosted 50 (fifty) students from the Hospitality Academy of Coachella Valley High School. The Academy teaches students how to be successful in careers that pertain to the hospitality industry, which are in demand in the Coachella Valley. Dr. Joe Tormey led the attendees on a tour and delivered a presentation regarding Hospitality Management and Admissions, that informed prospective students about the dynamic programs offered at the CSUSB Palm Desert Campus. To learn more about our PDC campus, and the different majors offered, please visit: 
https://pdc.csusb.edu/  
California Dream Act Application 
CA Dream Act Application (CADAA): This article is meant to briefly inform readers about the purpose of the California Dream Act Application (CADAA) and who is eligible to apply.    
 
What is it CADAA? The California Dream Act Application allows access to higher education for many students in California. Undocumented and nonresident students who qualify for a non-resident exemption are able to receive certain types of financial aid for higher education, such as: private scholarships funded through public universities, state-administered financial aid, university grants, community college fee waivers, and Cal Grants. In addition, the California Dream Act, allows eligible students to pay in-state tuition at any public college in California. 
* Listed are a brief set of requirements for the CADAA, for complete information and to apply, visit: https://dream.csac.ca.gov/ 
Who qualifies? 
Students who live in California  

Undocumented and nonresident students who qualify for a non-resident exemption under Assembly Bills AB540, AB2000, and SB 540  

Students with a U Visa 

Students with Temporary Protected Status (TPS) 

Students who have lost Deferred Action Childhood Arrival (DACA) status  
Students without Social Security numbers (SSN) 
Questions/help 
For a tutorial on how to complete the application, click HERE.

CSUSB students with questions or who require assistance with the CADAA, can reach out to the Undocumented Student Success Center at (909) 537-5937 and Dreamers@csusb.edu. 

Completion: Cody on the Go!
What is Cody on the Go? The Cody on the Go campaign was launched alongside the recruitment season. The purpose of the campaign was to highlight the multitude of locations in California that our phenomenal Outreach and Student Recruitment team visit. During these visits, the Outreach team have individual conversations with prospective students where they provide information about the various resources that CSUSB has to offer. The CSUSB Outreach team is proactive in their approach to recruitment and attend conferences and training sessions in order to serve the needs of all CSUSB students best.   
The Outreach and Student Recruitment team visited countless locations in California during the 2019 recruitment season, and student engagement with Cody on the Go was impressive! Over 4,500 lead cards were received from prospective students. Lead cards are one way that future Coyotes express interest in CSUSB, which is important because they help to facilitate more personalized correspondence with potential students. This recruitment season, over 2,000 lead cards were received from first-time freshmen, and our engagement with Community College students was notable as well. Cal State San Bernardino is proud to represent students of all origins, and the Outreach team is vital in sharing the inclusive and academically motivated culture that coyotes embrace. To stay up to date with Cody, and view all his silly selfies, click here: @csusbadmissions   
 Important Deadlines, Upcoming Events & Reminders
Jan. 4 
Saturday Classes Begin
Jan. 6
Weekday Classes Begin
Jan. 10
Last day to add open classes without permission
Jan. 20

Martin Luther King Day Jr.

(Campus closed)

Jan.  25

FAFSA Workshop

(10 am-noon) CE 202)

Jan. 27
Census, last day to drop without record
Jan.31

Native American College Expo

(SMSU 8 am-5 pm)