Welcome to the Extended REALity for Learning (xREAL) Lab with Information Technology Services!
xREAL is an interdisciplinary technology innovation hub that brings together faculty, students, staff, and industry partners and uses a variety of leading-edge technologies to design and develop immersive learning experiences that advance the scholarship of teaching and learning and have demonstrable pedagogical benefits. 
Our mission is to transform teaching and learning with leading-edge technologies by researching and designing surprising human-machine interactions that encourage the joy of discovery, provide educational insights, and contribute to the public good.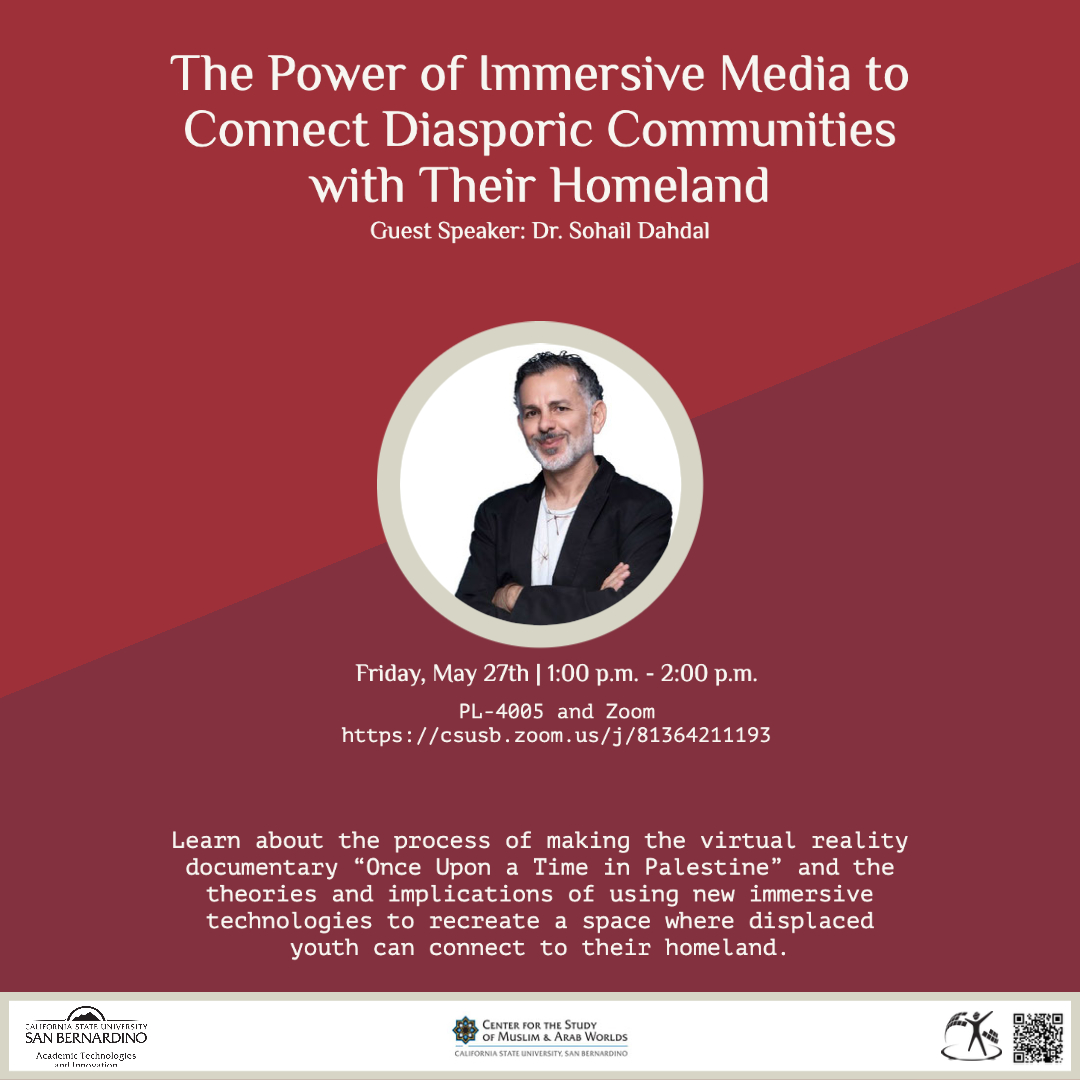 Join us as Dr. Sohail Dahdal presents his lecture titled "The Power of Immersive Media to Connect Diasporic Communities With Their Homeland"
Co-hosted by the Extended Reality for Learning (xREAL) Lab with Information Technology Services (ITS) at California State University, San Bernardino (CSUSB) and the Center for the Study of Muslim & Arab Worlds (CSMAW) at CSUSB.
This lecture will showcase the process of making the virtual reality documentary "Kan Ya Ma Kan fi Filistine" (Once Upon a Time in Palestine) to engage Palestinian youth in the diaspora with their heritage. The project recreates a virtual village and places volumetric videos of reimagined pre-1948 Palestinian stories in those virtual spaces to bring a sense of home to Palestinians in the diaspora. Dr. Dahdal will examine the theories and implications of using new immersive technologies and more specifically, volumetric videos and photogrammetry, to recreate a space where displaced youth can connect to their homeland.
May 27, 2022 | 1:00 p.m. - 2:00 p.m.  Location: PL-4005 and Zoom