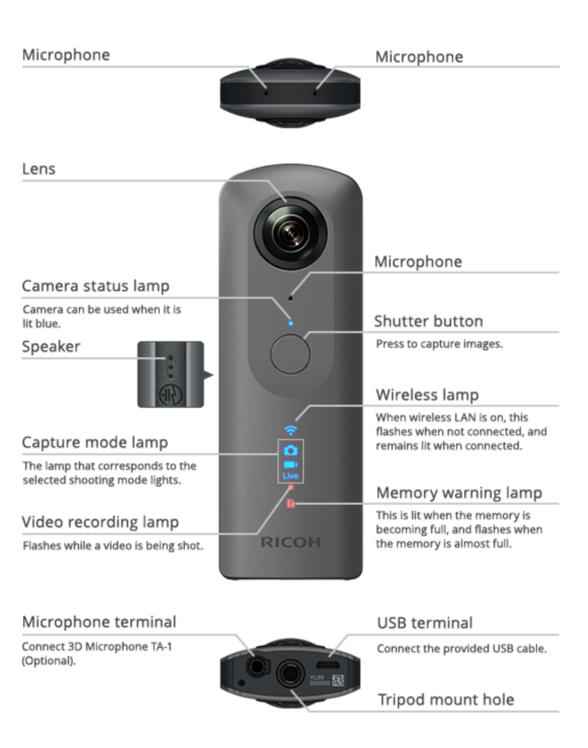 RICOH THETA V
360 video and still camera
Parts of the camera
Ricoh Theta Password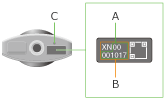 Select the SSID of the camera from the network list and enter the password
The serial number printed on the base of the camera is the same as the SSID and password
The SSID is "THETA" plus the serial number in the (B) section (in this case "THETAXN00001017"). The password is the numbers in the (A) section (in this case "00001017").
You can change the password from your smartphone.
The password is initialized by pressing the reset button (C).
When the dedicated app is started after the connection is done, the wireless lamp lights in blue.
CAMERA POSITIONING
The camera should be about 4-5 feet from the main subject, as this should give it enough prominence in the shot without making it uncomfortably close. That same experience you get when someone is "in your personal space" is easy to achieve, and generally not what you want in VR. Make sure your camera is level while you are shooting.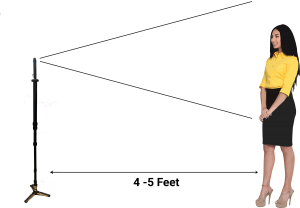 EVERYTHING IS IN THE SHOT
There is no "behind the camera." When shooting any scene, you need to either leave the room or make yourself part of the shot. The cameras works with a companion phone app that allows you to remotely take a photo or video, giving you the opportunity to hide close by, out of sight.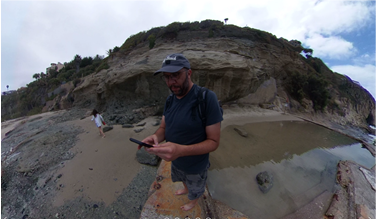 LIMIT MOVEMENT OF THE CAMERA
When planning your shoot, try to let the person viewing the experience be in charge of where they go. Use hotspots to allow for "teleporting" around an area or between scenes in a "first-person" perspective. Any disconnect between the camera's movements and the viewer's own body movements can be disorienting at best, and nauseating at worst.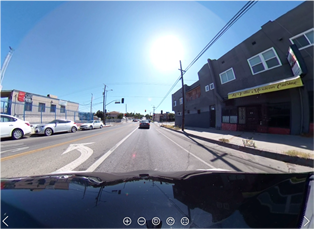 When picking a locations look for areas that are visually engaging. The viewer is looking at the scene in a full 360 degrees.
LIGHTING
Quite often, for standard photography, you will use additional lighting or a flash to illuminate an area that doesn't have good natural light. With 360, you can't add extra visible lights because they will also be in the scene, and you'll end up blinding anyone who looks back at the lights around them.
The best solution, of course, is to have good natural lighting in the scene, but that's not always possible. If there is a particular area that must be well-lit, try using extra lighting behind other objects in the scene. Or, try using small directional spotlights pointing towards the subject and away from the camera. Also, consider the existing lights in the room or area, and perhaps look at using higher power fixtures that give you the lighting effect you need.
---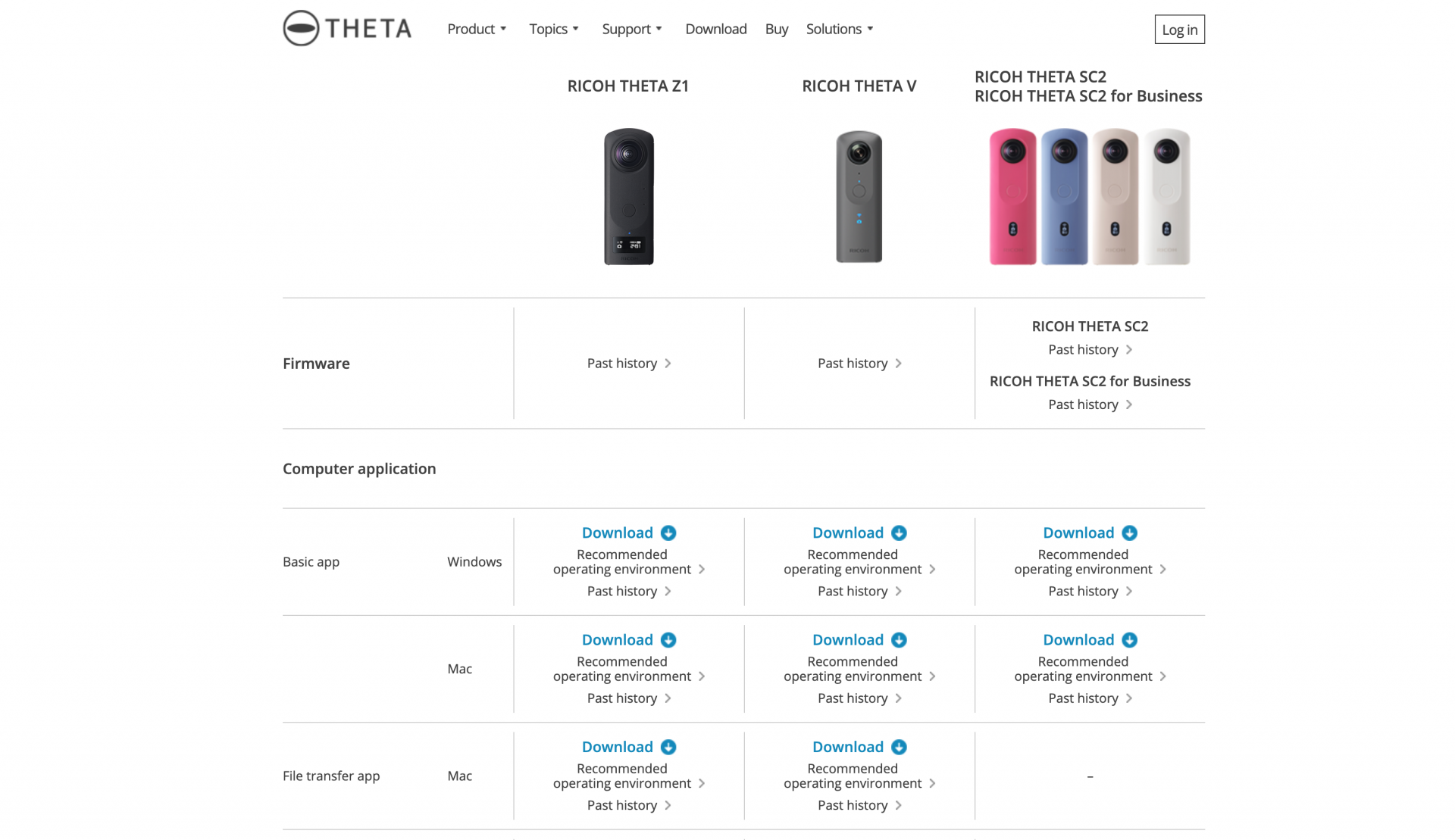 Editing 360 video
https://studio.knightlab.com/results/storytelling-layers-on-360-video/how-to-edit-360-video-in-premiere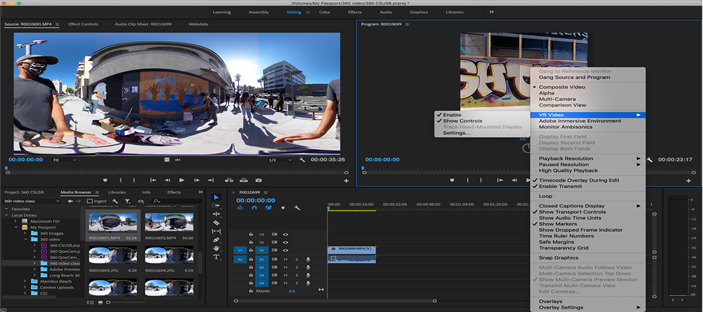 Posting your content:
---
START PRACTICING WITH 360 VIDEO
As you can see, there is a bit more to 360 filming that there is with standard filming. But, as with just about anything, the most important lessons learned are those learned by doing, so get out there and start shooting today!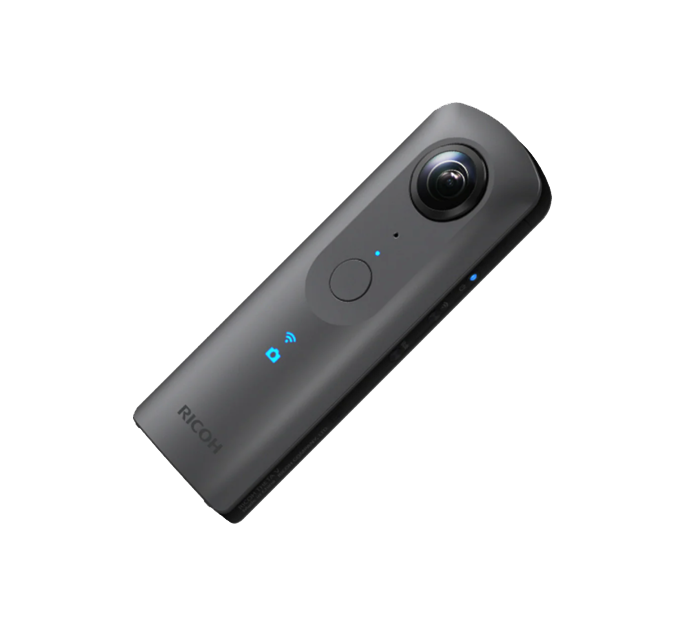 CSUSB 360 Video Documentaries
Oscar Ramirez, Chicano Artist
Chicano Mural
Shatilia Refugee Camp 2020
---
Contact
Assistant Director, Academic Technologies & Innovation
Academic Technologies & Innovation
Email: jamest@csusb.edu
Office Phone: (909) 537-5063
Office Location: PL-002A