Academic Research workshops can be found here:
Academic Research upcoming events can be found here: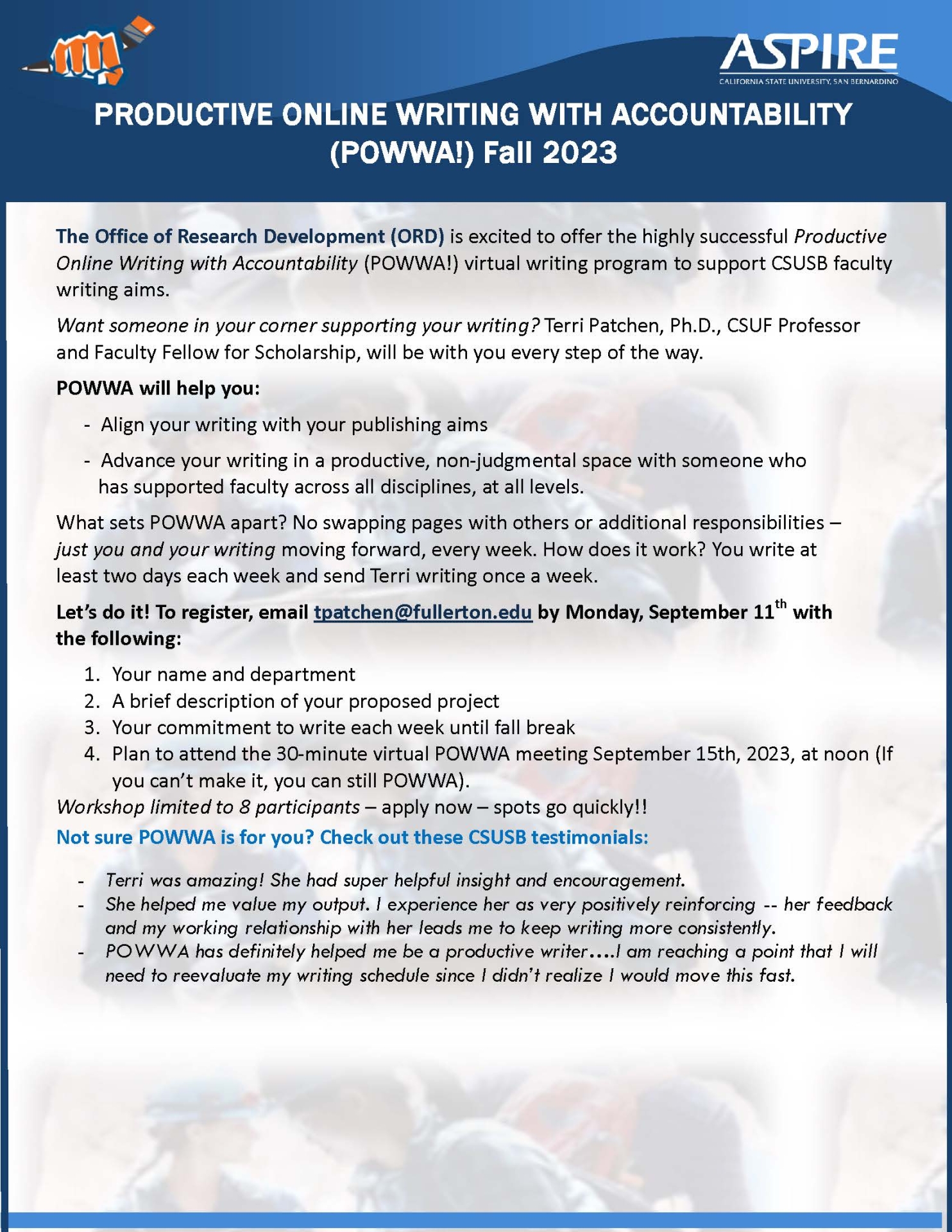 POWWA! Fall 2023
 The Office of Research Development (ORD) is excited to offer the highly successful Productive Online Writing with Accountability (POWWA!) virtual writing program to support CSUSB faculty writing aims.
Want someone in your corner to support your writing? Terri Patchen, Ph.D., CSUF Professor and Faculty Fellow for Scholarship, will be with you every step of the way.
POWWA will help you:
- Align your writing with your publishing aims
- Advance your writing in a productive, non-judgmental space with someone who has supported faculty across all disciplines, at all levels.
What sets POWWA apart? No swapping pages with others or additional responsibilities – just you and your writing moving forward, every week. How does it work? You write at least two days each week and send Terri writing once a week. Let's do it! To register, email tpatchen@fullerton.edu by Monday, September 11th with the following:
Your name and department
A brief description of your proposed project
Your commitment to write each week until fall break
Plan to attend the 30-minute virtual POWWA meeting on September 15th, 2023, at noon (If you can't make it, you can still POWWA).
Workshop limited to 8 participants – apply now – spots go quickly!!
Not sure POWWA is for you? Check out these CSUSB testimonials:
Terri was amazing! She had super helpful insight and encouragement.
She helped me value my output. I experience her as very positively reinforcing -- her feedback and my working relationship with her lead me to keep writing more consistently.
POWWA has definitely helped me be a productive writer….I am reaching a point where I will need to reevaluate my writing schedule since I didn't realize I would move this fast.