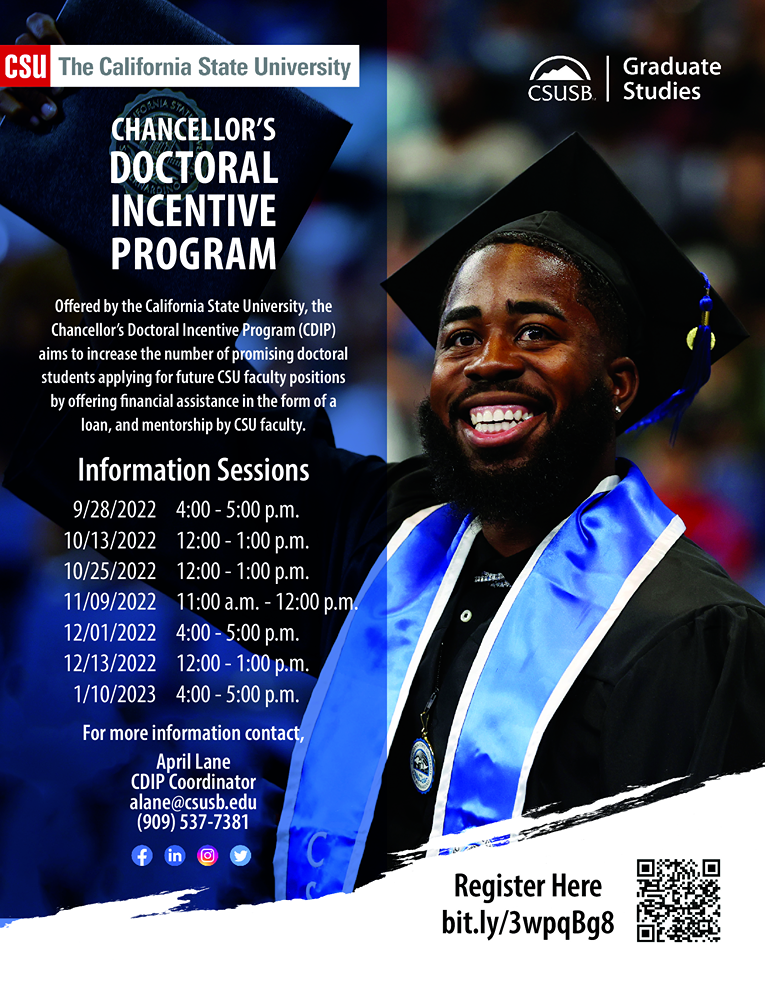 Chancellor's Doctoral Incentive Program Information Session 
Date: January 10, 2023
Time: 4:00 PM - 5:00 PM 
Location: Zoom
The Office of Graduate Studies cordially invites you to the Chancellor's Doctoral Incentive Program (CDIP) Information Session taking place on Tuesday, January 10 at 4:00 p.m. 
Offered by the California State University, the mission of the CDIP is to provide professional and academic support to doctoral students aspiring to teach the diverse students of the CSU system. At the foundation of the CDIP is the mentorship between a CSU faculty member and the fellow. The CDIP also provides opportunities for professional development workshops, social connection, grant and research support, and if necessary, financial assistance in the form of a forgivable loan. The program is open to new or continuing full-time doctoral students, undergraduate and master's level graduate students applying to doctoral programs, and lecturers enrolled in the full-time doctoral program.
There is still time to register for an upcoming information session! 
Spring 2023 Thesis Retreat
Date: January 14, 2023 
Time: 9:00 AM - 4:00 PM 
Location: CE 356 or via Zoom
Are you anticipating completing your thesis, project, or dissertation in the 2022-2023 academic year? Could you use some guidance in getting started with this major project? 
If so, please join Dr. Caroline Vickers, Interim Associate Dean of Graduate Studies, for one full day goal seting, intensive writing, community building, and nourishment. Space is filling quickly, and registrations will close at 12:00 p.m. on Monday, January 9th.
Agenda:
9:00 AM - 10:00 AM   Coffee, pastries, and goal setting
10:00 AM - 12:00 PM   Intensive writing time with writing coaches 
12:00 PM - 1:00 PM      Lunch
1:00 PM - 3:00 PM       Intensive writing time with writing coaches
3:00 PM - 4:00 PM      Reflection 
For additional information please contact:
(909) 537-5058
CE 356
Peer Support Training For Suicide Prevention 
Date: January 17-20, 2022
Time: 8:00 AM - 4:00 PM 
Location: CSUSB Main Campus University Hall
The Institute for Child Development and Family Relations (ICDFR) at CSUSB and the San Bernardino County Superintendent Schools are hosting a 4-day suicide prevention training event for current graduate and undergraduate CSUSB students. The training, workshops, breakfast, and lunch are free for participants. Space is limited to 30 participants. Training will include:
In-depth trainings and workshops on suicide prevention
Leadership skills development
Knowledge about mental health challenges for high risk populations
Networking opportunities with campus and community agencies that provide suicide prevention and mental health services
Interactive action planning for applying these skills to CSUSB and the community
For more information regarding this event, please contact Beatrice Blake at beatrice.blake@sbcss.net.