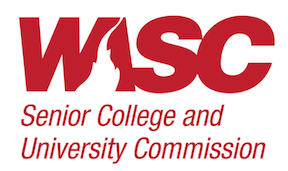 The Western Association of Schools and Colleges (WASC) is one of America's six regional accreditation agencies. Its jurisdiction covers California, Hawaii, and the Pacific regions. Four-year institutions seek accreditation from WASC for Senior Colleges and Universities (WSCUC). In contrast, non-four-year institutions obtain theirs from two other commissions (one for junior colleges and the other for K-12 schools and non-degree-granting postsecondary institutions).
California State University, San Bernardino, completed its accreditation reaffirmation cycle in 2021. As a result, WSCUC issued its action letter to CSUSB President Tomás D. Morales on March 9, 2022. In it, the Commission reaffirmed accreditation for ten years. In addition, the WSCUC commission commended the university for:
Making enormous and impressive strides directly addressing the identified requirements outlined in the last Commission Action Letter.
DEI governance model is highly inclusive and reflects a genuine commitment to diversity, equity, and inclusion as part of the emerging fabric of the institution.
Student advisors across the university collaborate in powerful ways to consistently provide a full range of support that contributes to student success.
The thoughtful and intentional way in which IT and IR teams envisioned, planned, and built systems and platforms in support of student success and in response to the global pandemic.
Allocating resources for initiatives such as DEI, the Quarter to Semester transformation, and the development of a culture of assessment – that demonstrates the level of institutional commitment required for successful implementation of these overarching strategic goals.
Creating a culture of continuous improvement by breaking down silos and working together across the university.
Developing a meaningful and substantive student-centered focus across multiple departments and programs.
While the university celebrates its success in obtaining reaccreditation from WASC, we are aware that we need to do more to fully realize the meaning of a CSUSB degree https://bulletin.csusb.edu/about-university/. We are poised to move forward along a path of continuous improvement for our students and our community. 
CSUSB Current WSCUC Reaccreditation Term
It is our pleasure to share with you the WSCUC Commission Action Letter and the Visiting Team's Report for our 2021 reaffirmation of accreditation review. CSUSB received a ten-year reaccreditation, with an Interim Report due in 2025. Our next Offsite Review and Accreditation Visit are scheduled for Spring and Fall 2031. 
---
CSUSB Reaffirmation of Accreditation 2021
---
WSCUC Timeline
---
Why is WSCUC accreditation important for our campus?
Watch this quick video to find out! 
---
Onsite Visit Schedule
---
WSCUC Dates
WSCUC Dates

| Fall 2020 | Spring 2021 | Summer 2021 | Fall 2021 | Spring 2022 |
| --- | --- | --- | --- | --- |
| CSUSB Institutional Report Due: December 17, 2020  | Offsite Review: February 25, 2021 | Responses to the Lines of Inquiry from the Offsite Review Due: July 16, 2021 | Reaccreditation Campus Visit: September 22-24, 2021  | Commission Meeting panel date: February 25, 2022 |
---
Commission Reports and Letters
Commission Reports and Letters

| 2015 | 2017 | 2019 | 2021 |
| --- | --- | --- | --- |
| | | | |
---
WSCUC Steering Committee Meeting Dates
Scheduled Dates:
Scheduled Dates

| Winter/Spring Quarter, 2019 | Fall Quarter, 2019 | Winter Quarter, 2020 | Spring Quarter, 2020 |
| --- | --- | --- | --- |
| Monday, March 4, 2019 | Friday, December 6, 2019 | Friday, March 6, 2020 | Friday, June 12, 2020 |
Scheduled Dates

| Fall Semester, 2020 | Spring Semester, 2021 | Spring Semester, 2021 |
| --- | --- | --- |
| Friday, October 30, 2020 | Friday, March 5, 2021 | Friday, May 28, 2021 |
---
WSCUC Monthly Updates
WSCUC Monthly Updates

| | |
| --- | --- |
| 2019 | May, June, July, August, September, October, November, December |
| 2020 | January, February, March, April, May, June, July, August, September, October, November, December |
| 2021 | |
---
WSCUC Operations Team
Clare Weber, Deputy Provost and Vice Provost for Academic Programs; WSCUC Accreditation Liaison Officer
Julie Lappin, Chief of Staff and Associate Vice President 
Muriel C. Lopez-Wagner, Chief Data Officer and Associate Vice President for Institutional Research & Analytics, Digital Transformation, and Compliance Initiatives
Sunny Hyon, Professor; Associate Chair; Institutional Report writer 
Judy Sylva, Professor; Faculty Director of Assessment for Academic Affairs
Janelle Gilbert, Associate Professor; Advising Coordinator; MSIO Recruitment Coordinator
Jennifer Mersman, Assessment and Research Officer for Student Affairs
Faika Lore, WSCUC, Program Review, and Assessment Logistics Coordinator
---
WSCUC Onsite Visit Operations Committee
Clare Weber, Deputy Provost and Vice Provost for Academic Programs; WSCUC Accreditation Liaison Officer
Julie Lappin, Chief of Staff and Associate Vice President 
Pamela Langford, Associate Vice President for Alumni, Government & Community Relations
Muriel C. Lopez-Wagner, Chief Data Officer and Associate Vice President for Institutional Research & Analytics, Digital Transformation, and Compliance Initiatives
Ginny Hattar, Director of Special Events & Guest Services
Judy Sylva, Professor; Faculty Director of Assessment for Academic Affairs
Sunny Hyon, Professor; Associate Chair; Institutional Report writer 
Janelle Gilbert, Associate Professor; Advising Coordinator; MSIO Recruitment Coordinator
Faika Lore, WSCUC, Program Review, and Assessment Logistics Coordinator
---
WSCUC Steering Committee Members
Clare Weber, Deputy Provost and Vice Provost for Academic Programs; WSCUC Accreditation Liaison Officer; Steering Committee co-chair
Beth Steffel, Faculty Senate Chair; Steering Committee co-chair
Daisy Ramos, ASI student representative
Nathaly Ramos, ASI student representative
Roman Salem, ASI student representative
Sunny Hyon, faculty, Institutional Report writer
Jo Anna Grant, CAL faculty representative
Judy Sylva, Assessment faculty representative
Thomas Long, SBS faculty representative
Monideepa Becerra, CNS faculty representative
Matthew Poole, CAL faculty representative
Becky Sumbera, COE faculty representative
Karen Escalante, COE faculty representative
Kimberly Collins, JHBC faculty representative
Janelle Gilbert, GE faculty representative
Mihaela Popescu, CAL faculty representative
Julie Lappin, Chief of Staff; Associate Vice President
Shari McMahan, Provost; Vice President for Academic Affairs
Paz Olivérez, Vice President for Student Affairs
Samuel Sudhakar, Vice President for Information Technology Services
Douglas Freer, Vice President for Administration and Finance
Robert Nava, Vice President for University Advancement
Cesar Caballero, Dean for the Pfau Library
Rafik Mohammed, Dean for the College of Social & Behavioral Sciences (SBS)
Sastry Pantula, Dean for the College of Natural Sciences (CNS)
Rueyling Chuang, Dean for the College of Arts and Letters (CAL)
Jake Zhu, Dean for the Palm Desert Campus (PDC)
Chinaka DomNwachukwu, Dean for the College of Education (COE)
Tatiana Karmanova, Associate Vice Provost; Dean for College of Extended and Global Education (CEGE)
Shanthi Srinivas, Interim Dean for the Jack H. Brown College (JHBC) of Business and Public Administration
Anna Ni, Associate Dean in Jack H. Brown College
Muriel Lopez-Wagner, Chief Data Officer; Associate Vice President for Institutional Research & Analytics
Lesley Davidson-Boyd, Interim Dean for Undergraduate Studies
Dorota Huizinga, Associate Provost for Academic Research; Dean of Graduate Studies
Cierra Lavarias, Compliance Specialist
Rachel Beech, Associate Vice President for Enrollment Management
Jackie Varela, Director for Student Engagement
Monir Ahmed, Associate Vice President for Finance and Administrative Services
Joe Gutierrez, Assistant Director for Strategic Communication
Jeanne Durr, Interim Associate Vice President for Human Resources; Co-Chief Diversity Officer
Seval Yildirim, Associate Provost for Faculty Affairs and Development; Co-Chief Diversity Officer
Edwin Gomez, Riverside County Superintendent of Schools