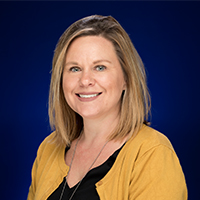 Dr. Sparks is an Assistant Professor in the Department of Special Education, Rehabilitation and Counseling at California State University, San Bernardino Ability Sports & Education Festival and is in charge of all things Volunteer. Below Dr. Sparks provides a few FAQ's that can help answer any questions you may have. If you feel you need further assistance or a question that she has not address, please contact her.
Phone: 909-537-7328   
Email: Shannon.sparks@csusb.edu
Do I have to pay for parking?
No, all our volunteers park free. Please download and print the parking voucher located on the registration page of the website and place it in your front windshield once you arrive at the event.
Can volunteers leave half way through the committed time?
No. If you have committed to working certain time slots, you are required to stay the whole time. Leaving halfway will cause an inconvenience to all helping at the event as we are counting on you to help.
Will volunteers be provided with refreshments or a meal at the event?
Yes. If you volunteer for 4 hours or more, you will receive a meal ticket. Water will be provided. There will be a number of wonderful food trucks at the event!!!
Will volunteers be provided with training prior to the event?
Yes. You can attend any of the following sessions. The training sessions for volunteers will be held on:
September 29th, 2017: Session 1 – 10 am to 12pm
Session 2 – 1pm to 3pm
September 30th, 2017: Session 3 - 10 am to 12 pm
October 3rd, 2017: Session 4 - 6pm to 8 pm
Room numbers where the sessions will be held is to be determined.
What is the deadline to sign-up as a volunteer?
Anyone interested in volunteering at the Disability Sports Festival need to sign up by October 1st, 2017 by 11.00pm
Do all volunteers need to fill out a registration form?
Yes! The registration form is available on our website. Please read the instructions carefully.
Can family and friends volunteer?
Yes! But they will need to sign a volunteer identification form provided by the Human Resources Department. We will make the forms available to you.
What is the age criteria for volunteers?
Volunteers need to be 18 years or older to help at the Disability Sports Festival
Where do I check in on the day of the event?
Show up at the registration booth on the day of the event and the Volunteer sign-in and sign-out sheet will be provided to you.
What will volunteers be required to do?
Volunteers will help with set-up, helping coaches with the participants, provide one on one assistance to some individuals with disabilities, manage booths, assist with parking, and help clean up after the event and a lot more.