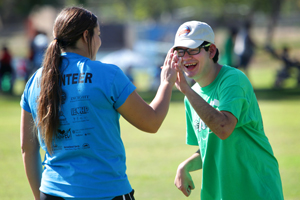 Volunteer Opportunities:
Ability Sports & Education Festival Volunteers
The wonderful magic of the Ability Sports & Education Festival is in its volunteers whose endless energy and can-do attitude create the amazing environment our participants have come to know and enjoy. The continued success and growth of this event is a direct result of our communities continued help and support. Our sponsors may make the event possible but it's the volunteers that make the attitude possible.
Seeking Volunteers – We Need You - 
If you can smile upon and encourage a child or adult that has endured many challenges in their life, then we need YOU!  If you have special talents or trained expertise, then we need YOU!  If you are willing to offer your time with our logistics, then we need YOU!  In other words, WE NEED YOU! Register Today
**All volunteers must be at least 18 years old and have a signed CSUSB Volunteer Identification Form.  If you are interested in volunteering please fill out our registration form. 
Volunteer Teams
Set Up Crew – We need early risers! Vendor village tables and canopies need to be set up. Directional signs need to be place throughout event and at each sport.
Registration – Will be responsible for registering or checking in registered participants and their families. This includes ensuring liability and other forms are completed.  Distribution of T-shirts and wrist bands. Registration also acts as headquarters for event information.
Volunteer Booth – We need volunteers to manage the volunteers.  We have approx. 250 volunteers helping at this event and we need to make sure their needs are also met.
Coaches - If you have experience in adaptive sports, or specialized training in the rehabilitation field, we need you. 
Sports – Please let us know if you have experience in a particular sport.  We need a team leader and 20 volunteers per sport (in some instances) to assist coaches.
Medical Response – Will be under the direction of Dr. Guillermo Escalante.  CPR certification desirable.
Cart Drivers – Must be an employee or student of CSUSB and has completed the Defensive Driving Course.  Must provide proof of certificate.  Will assist attendees from parking lot.
Mascot Handlers – Mascots are not allowed to roam the event alone.  Due to visibility and crowding, we are required to assign one handler per mascot.  We may have 6 – 8 mascots. Assist the Mascot during the entertainment at lunch break.  Assist mascot with photo booth opportunities.
Clean-up/ Tear Down Crew – Vendor village tables and canopies will need to be broken down and stored.  All directional signs to be removed and stored.
Parking Attendants – Direct cars to lot N and assist people with special needs questions.
Vendor Village – Will be under the direction of Ms. Ginger Hartman. Need volunteers to assist and communicate with vendors throughout the event including initial setup.  This includes vendor booths, DJ, food trucks and entertainment.