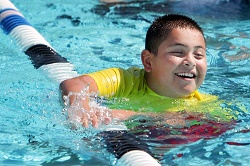 Due to technical issues with the pool, the Ability Sports & Education Adapted Swim Program has to be postponed until further notice. We will post new dates as soon as we can. Thank you for your understanding and patience in this unplanned and unforseen hiccup. 
The CSUSB Ability Sports & Education Adapted Swim Program is a learn-to-swim program for any person any age with any disability*. We ensure all participants will have a 1:1 or 1:2 instructor to swimmer ratio.
Participants will receive:
instruction to help improve their water safety skills and adapted swim techniques,
team t-shirt, 
a culminating party
We have limited number of spots available each year in order to keep the instructor to swimmer ratio low. Spots are filled at a first come first served basis. Registration will open March 2018. Fee is $70.00 for 4 weeks of instuction. No refunds for classes not attended.  
* Participants must be potty trained
Session 1  
9:30 am -10:30am & 11:00-12:00pm 
Please note the morning session will be a quiet session 
 Session 2  
9:30 am -10:30am & 11:00-12:00pm 
Please note the morning session will be a quiet session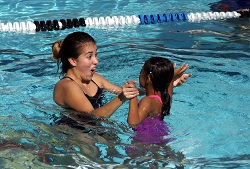 We need you:  Due to the popularity of the CSUSB Ability Sports & Education Adapted Swim Program, registration reaches capacity quickly. As the program grows, we are looking for volunteer instructors to be a part of this program to give more participants a chance to experience their potential. If you are interested in volunteering, please contact Dr. Priyanka Yalamanchili at: priyanka.yalamanchili@csusb.edu